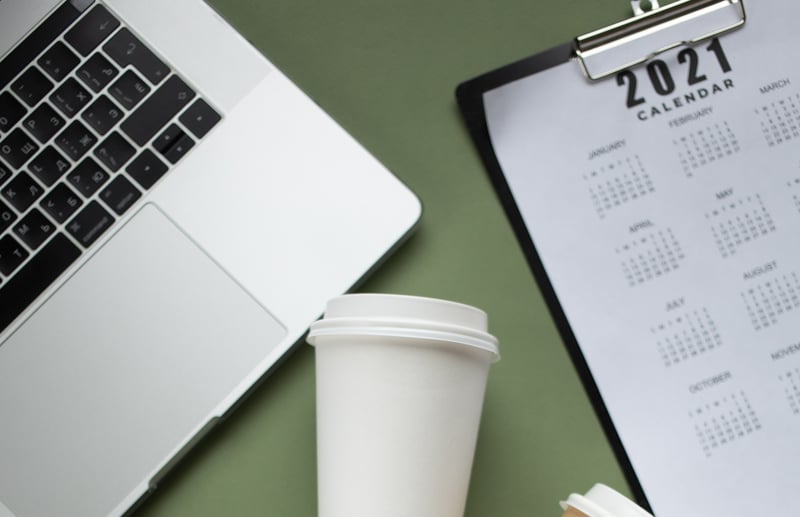 Photo by EKATERINA BOLOVTSOVA from Pexels.
We've made it to that season again... we are wrapping up final tasks and looking back at the accomplishments from the past year.
For the Collabware team, 2021 included plenty of technology releases and upgrades, hosting exciting virtual events (such as covering RM in M365 and how to modernize your file plan) and of course... publishing plenty of educative content!
Following suit of last year's Collabware Content Wrap Up, we bring you our top 10 content topics of 2021! We've reviewed our 2021 New Years resolutions and found that hey... we were pretty on point for achieving our goals this year. Browse below for some of our best reads of 2021...
Top Content Topics of 2021
1. Further Innovating our Cloud Solution Offerings
We can check off our first resolution tick box from this past January! Not only did we expand our cloud solution, Collabspace, into three products that cover archive storage, discovery and records management options based on your organizational needs, but we've fully expanded our content and records analytics features. Read about it all below:
2. Educating on the Value of Data Accessibility, Privacy and Insights
The second part of this resolution was educating readers on how to secure, discover and recover the business critical content they need, when they need it. We covered this in articles, such as:
3. Keeping You Posted on Regulatory Requirements & Helping You Achieve Them
We've worked long and hard to achieve approval for several of the top designations in security and regulations this year. And of course, to educate on their value. Read about:
4. Educating on Microsoft 365 Capabilities
What are the Microsoft 365 information governance features? We set out to dissect what's offered and share so you can find what's best for your team and invest accordingly. And we did just that!
We covered:
5. Stressing the Value of AI
If you are familiar with Collabware and our solutions, you'll know how excited we are about the value AI can bring to any team. That is why we've not only updated our educative AI article, but published a full whitepaper on the value of unstructured data intelligence (and how you can achieve it). Plus, we're honoured to be supporting a global AI research project!
6. Continue Supporting and Celebrating our Customers
We've said it before and we'll say it again: we only succeed when our customers do. That's why we're thrilled to share the following three customer success stories, with more coming in 2022! Read about:
6. Increasing Knowledge and Training for our Solutions
With the objective of providing increased knowledge transfer and support, this year we launched Collabware University, an online learning portal for software user training and courses around the latest information management topics. Read the release, what you can expect, and all about one technical writer's experience and impression after taking several courses:
7. Help you Managing your Physical Records
Physical records, physical records, physical records. We understand the pain points, so we created a whole series with tips, tricks, and breaking down Collabspace physical RM capabilities. Check out:
8. Knowledge Transfer For Content Migration
Content Migration- whether physical to digital, or digital into the Cloud- has and will increase amongst organizations. It comes with it's pain points! Check out articles from two of our team experts on how to simplify physical records content migration:
9. Educative Records Management Tips
And of course, though we've expanded, as an organization with roots in records management software, we are always happy to share tips and tricks to better manage your content. Here are some goodies:
10. Getting to Know US (the team behind the solution!)
We're proud of where we work, and the wonderful team we work in. So much so that we've been recognized as the #3 Best Workplace in Canada, along with making it onto some other awesome lists. If you want to join this team, check out our Careers page and of course, follow the Collabware Instagram page to keep up!
What did you think of this list? Are there any topics you'd like to see more of next year? Let us know in the comments, contact us with any questions, and most importantly: have a safe and wonderful holiday season! We'll see you in 2022!