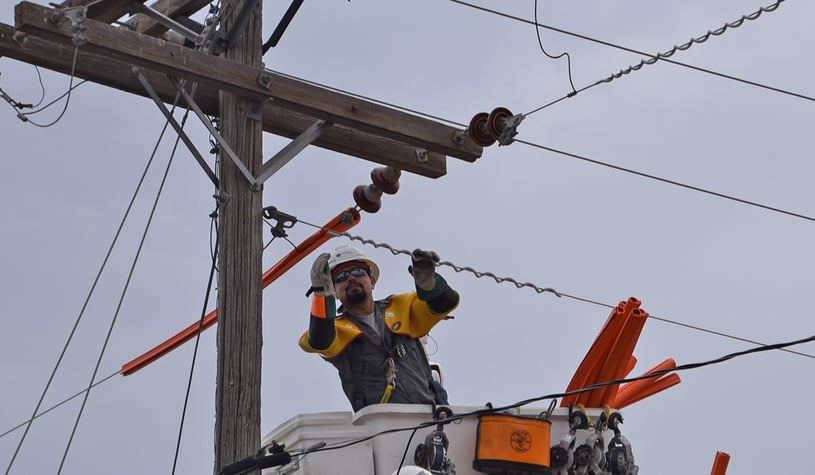 Lineworker maintaining an electric powerline. Image courtesy of SSVEC.
This article shares how Sulphur Springs Valley Electric Cooperative (SSVEC), Arizona's largest electric cooperative, went from facing data challenges such as departmental silos and retention and discovery limitations to eliminating those silos, obtaining secure archive and retention, and gaining unified discovery.
We'll cover SSVEC's...
While this is an brief overview of their story, you can access the free, full-length case study below, which includes additional challenges/victories, as well as details on their solution search, implementation process and future plans.
Backstory
Established in 1938, Sulphur Springs Valley Electric Cooperative (SSVEC) has since grown
into Arizona's largest electric cooperative.
To provide efficient service to its community, SSVEC's team must also work and manage their information efficiently. In an effort to bring content cohesion, searchability and disposition, the SSVEC records team was tasked with finding a solution that would better manage company data and provide a single source of truth, while also being able to integrate with solutions that were already in place.
Previous Systems
Initially, SSVEC departments such as Member Services and Accounting used both SharePoint 2010
and file shares to save their documents. During an operational update to their metering processes, they followed NISC recommendations and implemented Document Vault to capture electrical meter-related data, such as images and locations. Their Accounting and the Customer Services departments also use iVue software to scan invoices and member account content, respectively, which are then stored in Document Vault.
Challenges
Using these tools, the SSVEC team experienced the following challenges and limitations:
1. Departmental Information Silos
Across SSVEC, departments organize their information differently. While most departments save to SharePoint, they have varying volumes and structures in place. Not only did this result in content build up, but it created departmental silos that lacked cohesion, consistency and the ability to access the content quickly and easily for continued work, discovery and legal request purposes.
2. Retention Limitations
Saving content across file shares, SharePoint and Document Vault came with retention challenges. Having business-critical information scattered across various systems created barriers for building out proper, uniformed file plans and retention schedules.
3. Lack of Automated Records Disposition
Although they had a number of records classified and moved into SharePoint 2010 and Document Vault, SSVEC didn't have a way to do defensible disposition. For this reason, beyond occasional manual content deletion by staff and an in-house built internal SharePoint records system, they lacked both a formalized process and automation so destruction wasn't easy or consistent.
4. Difficulty Searching
Given that each department worked differently with information across systems and the lack of automated disposition resulted in content build up, the teams had trouble searching and finding the information they needed.
Breaking Point
SSVEC recognized limitations that came with both M365 and Document Vault for retaining business-critical information. They required a solution that could integrate with both platforms and had robust retention and search capabilities.
After SSVEC spoke to the Collabware team, they selected Collabspace as their cloud solution of choice for the following reasons:
Collabspace has connectors for file shares, Microsoft 365 and Document Vault, allowing SSVEC to automatically stream content from across their systems into one, centralized data lake repository.
Collabspace has retention features such as versioning to save each file version as a separate BLOB, and content is auto categorized into automated lifecycle workflows for timely retention, reviews and disposition.
Users can create and manage multi-level hierarchical classification systems to replicate or reorganize departmental informational organization.
Disposition capabilities are made easy with content review list features for disposition approval, and destruction certificates generated for audit purposes.
Simple yet powerful search capabilities include advanced search queries, shareable search templates and text extraction of PDFs with Optical Character Recognition (OCR) for quick, comprehensive and accurate search results.
We get into how SSVEC implemented Collabspace in the full-length case study, available for free download below.
Solutions
1. Eliminated Silos
Despite content organization looking different for each department, the SSVEC records team believes that
Collabspace has what it takes to meet the needs of all of them. Beyond being able to store and organize
each team's content, using Collabspace will also eliminate prior departmental silo barriers.
2. Secure Archive and Retention
All their file share, Microsoft 365 and Document Vault content is now archived and protected in one secure, WORM-compliant hub as management had envisioned years ago. This includes the iVue invoice and member account content that Accounting and Customer Service have stored in Document Vault. And with auto-categorization and options to build out multi-level file plans and automated lifecycle workflows, SSVEC will be able to rely on secure, automated management of their retained content as they move further into this project
3. Automated Disposition and Destruction Certificates
SSVEC can now rely on defensible disposition capabilities. The Member Services team has already taken
advantage of this feature, and paired with keyword extraction, it will be helpful for deduplication purposes
in the future.
4. Unified Discovery with Advanced Search
Selecting Collabspace will give SSVEC advanced search capabilities for content across all of their repositories into one set of unified results. They now have the ability to search Document Vault and SharePoint content quickly and with ease from Collabspace. This includes search for non-text-based content, such as images and scanned PDF invoices from iVue, using Optical Character Recognition (OCR).
These features will be useful for both day-to-day discovery and responding to legal discovery
requests, should they arise.
Conclusion
Implementing Collabspace is providing SSVEC with the central hub they desired for supervision, retention, search and disposition in the Cloud. The file share, Microsoft 365 and Document Vault connectors ensure secure storage and visibility across all of their business-critical information.
While content migration into Collabspace ensures immediate WORM-compliant protection of their data, over time, each department will be able to fully utilize the file plans, automated workflows, search and review features to quickly access any content needed. This, along with developing best practices, will allow SSVEC to gain the most value and insights from their organizational information, work more efficiently, and maintain their focus on the Arizona communities they serve.
To read the full, in-depth report on all of SSVEC's challenges, their search for a solution, implementation process, victories and future plans, access our free case study below: