Be it eDiscovery, an FOIA request, or employee onboarding: there are many instances when a task or project requires a specific set of search criteria to access the appropriate content. But what about the times when the assigned job falls on someone who may not be familiar with what criteria they should input for their search?
While you can train and walk each individual through the process of how to search across different content sources, this takes a lot of time and there is a faster method available. This blog will cover how using the Shareable Search Templates in Collabspace allows individuals with project knowledge to save and share their search queries across their teams to standardize and expedite content discovery.
Collabspace Search Template
Let's showcase this capability with a common case example. Justine, the Head of Human Resources, is responsible for overseeing hiring and employee onboarding at her organization. For these processes, she needs access to content across multiple repositories: employee file content from her local file system, signed contracts attached to past emails, organizational culture policies stored in SharePoint, etc. Instead of searching across the different sources she can go to Collabspace, a data lake where all the content has been streamed and is securely backed up.
After inputting the search criteria necessary for gathering employee onboarding content, Justine can save her search conditions into a Search Template to standardize this process so she can have it available any time she needs to access this material again in the future. When she is the single HR professional in the company, this works very well.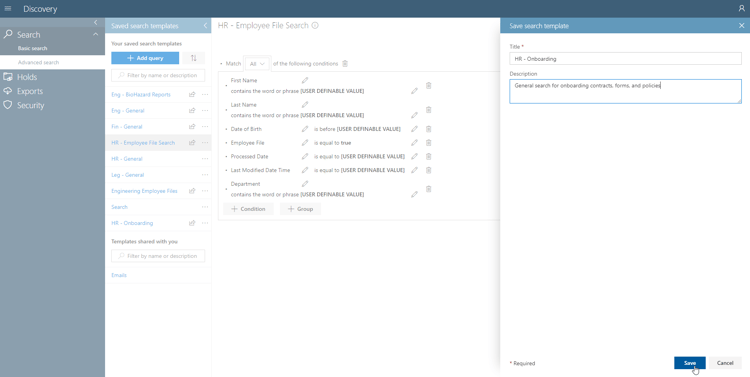 Figure 1: Justine can create a search query for her Onboarding process, and save this as a Search Template to apply during similar projects in the future.
As the organization grows, Justine hires on two assistants for her Human Resources team. Needing support from her team members with onboarding, it would be useful for her to take advantage of Collabspace Shareable Search Templates.
Search Administrator Role
First, Justine needs to be designated as a Collabspace Search Administrator. In this role, she can create a Security Group that includes her two employees, and can then define the search template that she uses for her Onboarding process so that it can be used by the members of the group.
This way Justine's assistant, Oscar, who is part of the HR Team Security Group, can access and use this Search Template whenever he has been assigned to prepare the materials for upcoming onboarding sessions.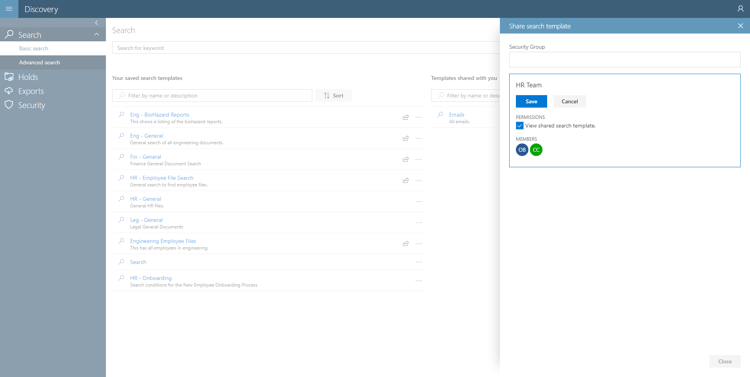 Figure 2: As a Search Administrator, Justine can create Security Groups and add members of her team.

Figure 3: After creating her Search Template and Security Group, Justine can then share the templates of her choice with her team members.
Customizing Search Criteria
For the cases when Search Templates need to be further customized, Justine can configure her queries with optional conditions that she leaves blank. These can either be left empty so they do not affect the search, or Oscar can fill them in to further filter.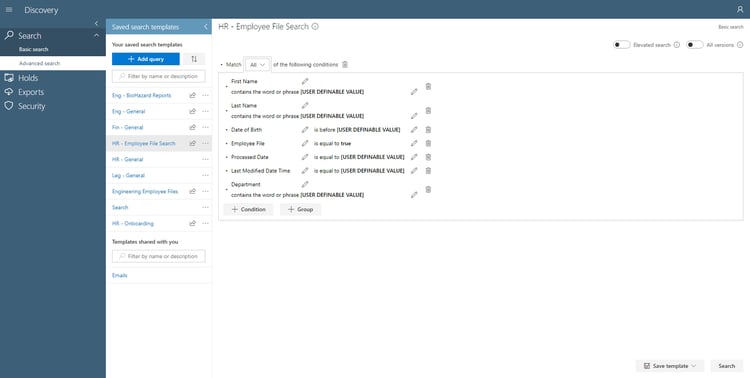 Figure 4: Justine can set her search queries to have optional conditions, which basic users like her assistant Oscar can fill out to further filter their search queries.
For example, there is a Content Source handler which Justine can use to filter on a specific content source. If Justine asks Oscar to use only the onboarding documents that she had previously emailed him for an upcoming project, the search criteria could be set to filter in HR content from Microsoft Exchange.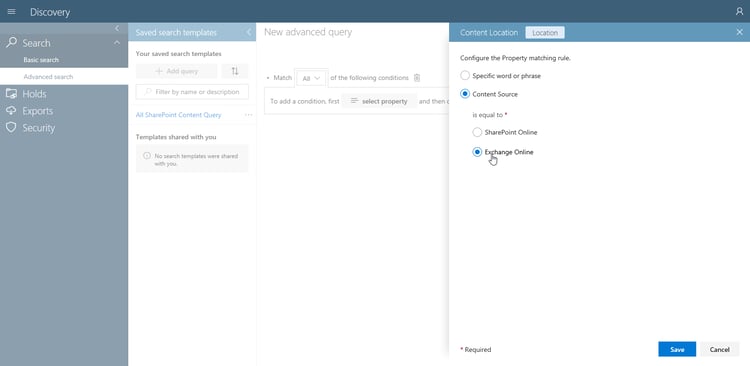 Figure 5: A Content Source handler is available to filter content from a specific source.
Shareable Search Templates provide Justine with the ability to build out pre-defined search criteria that members across her team can select and apply. Her colleagues are now equipped with search criteria that they need for their onboarding sessions, while Justine can turn her focus to other tasks, such as interviewing or conducting HR policy content reviews.
Want to learn more about Search Templates, or see if the Collabspace data lake solution is the right fit for your organization? Please reach out to us with any questions or for a Discovery Call. You can also download a free brochure below to learn more about Collabspace capabilities: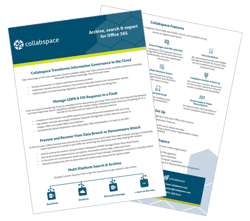 Curious to read more about Collabspace features? Check out our blogs about Automated Workflows, Content Review Lists, or the Holds feature!