Standardizing and streamlining the Holds process for the most value for your organization.
When we talk about Holds in records management, we are normally talking about things from a legal standpoint. A Legal Hold is standard practice during the e-Discovery process to ensure that records relevant to a legal case are suspended in their disposition policies so they cannot be destroyed, moved, or altered. The purpose is to preserve the integrity and trustworthiness of all potentially relevant information, and of the organization holding this information, in the case of litigation.
We will be outlining the two main requirements of a Hold and then demonstrate how using the right solution not only fulfills these requirements, but makes this process streamlined, standardized, and brings ROI to your organization.
Two Requirements of Legal Holds
Seen in the graphic from our previous blog, the process of e-Discovery can be broken down into seven steps. As we walk through a common case scenario below, we'll cover how Legal Holds would mainly fall under the first three phases: Identification, Preservation, and Collection.
Through all these phases, the overall objective of a Legal Hold is the preservation of relevant records. The main two requirements of Holds are as follows:
1) All relevant information is locked down and cannot be altered by any party
2) Record disposition cycles of relevant information are suspended until the Hold is complete
While organizations can meet these requirements through whatever previous processes they have in place, identifying and preserving these records can take a lot of time and billable lawyers' hours. The alternative is using a solution that makes the Holds process fast, simple, and repeatable for your internal team.
Starting the Legal Holds Process
We'll use a common case scenario to demonstrate how using the right tool can fulfill these requirements and bring value to your organization.
Let's say that a litigation case has unfolded and the lawyers require all content involving exchange between the employees Jane Foster and Eric Masterson. If the organization is using Collabspace, all of their managed content has already been streamed into this unified data lake repository. So whether an Outlook email or a SharePoint document, it is easily accessible from one platform. This storage is WORM-compliant so even before content has been placed in a Hold, it fulfills the first requirement because all stored versions are immutable.
Designating Roles
As with any Legal Holds process, there need to be roles set in place for who will be identifying the content and placing the Holds. In this type of legally-sensitive scenario, general end users should not be aware of what content is on Hold or have the ability to place or remove those Holds (especially Jane or Eric). In Collabspace, only those designated as Discovery Administrators will have the necessary permissions to place Items on Hold. Holds are transparent so other end users can't see what content is on Hold and can continue to work on or even delete documents in their original source system, meanwhile Collabspace has every version of those documents set as immutable.
With those responsibilities set, it's time to find the relevant information.
Identification Phase
For the phase of identifying what content needs to be placed on Hold, the Discovery Administrator can simply go into the Search page and create a Search query for any information related to Jane or Eric. Collabspace will pull up all information with the terms. These Search queries can be saved into search templates and even be shared with other relevant team members to expedite this process, should it be necessary to access this content again in the future.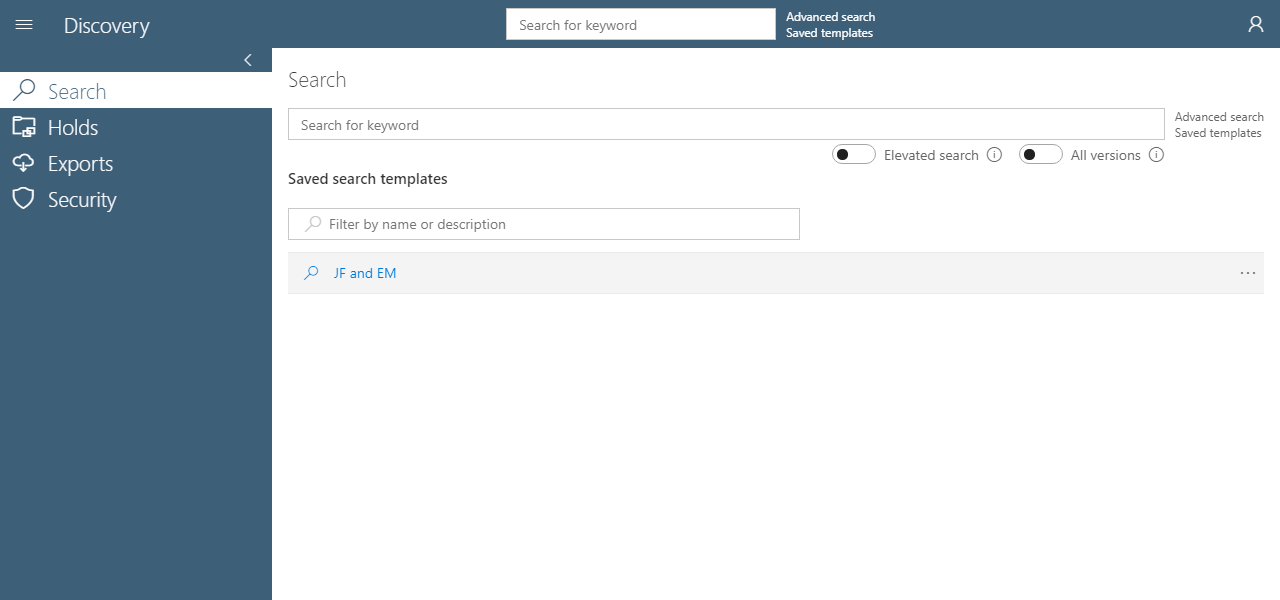 Figure 1: Collabspace Search page. The Discovery admin can input terms into the search tab or pull up a previous search query. In this case, there is a saved search template for the litigation case called 'JF and EM.'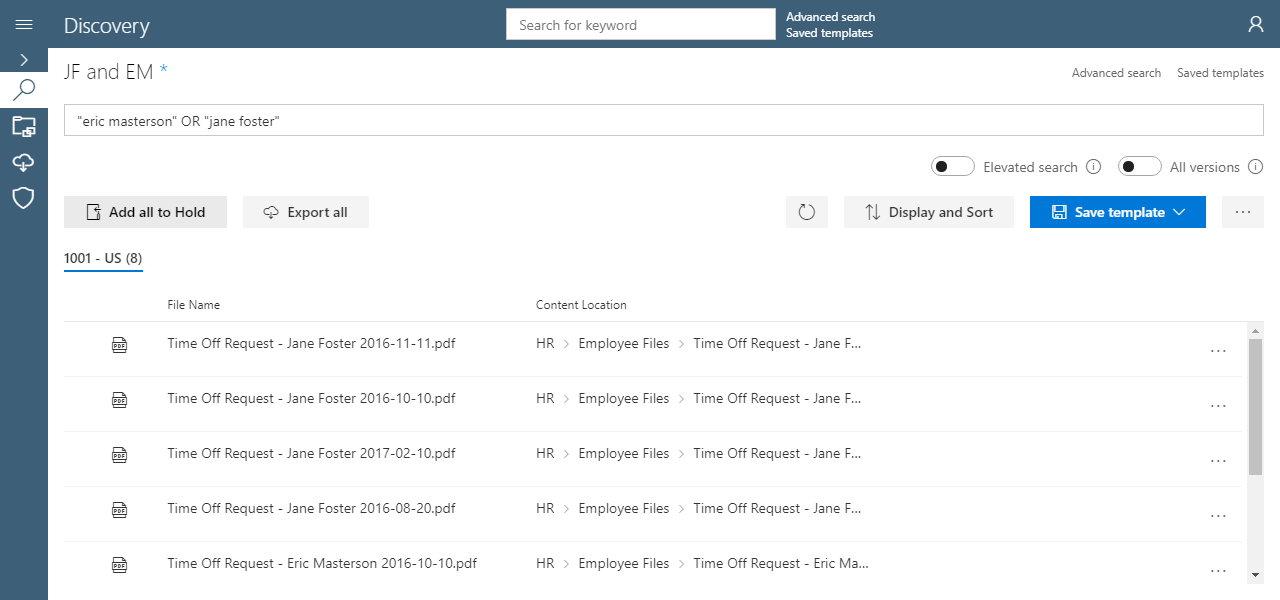 Figure 2: Collabspace Search Results. The Discovery Admin has searched Eric Masterson and Jane Foster.
Preservation Phase
One, multiple, or all items from the search results can been selected and placed into an existing or new Hold. Generally when placing Holds, it is standard to cast a wider net and capture all items so that no relevant information is missed (narrowing this wide net will be covered below).
It can be as easy as that for the preservation phase: all potentially relevant items have been placed on Hold so no one can alter or destroy versions of this content in Collabspace. The Review Action for disposition approvals for these Items is also paused until the Hold is lifted.
Figure 3: All search results have been selected and the Discovery Admin has put them into a new Legal Hold.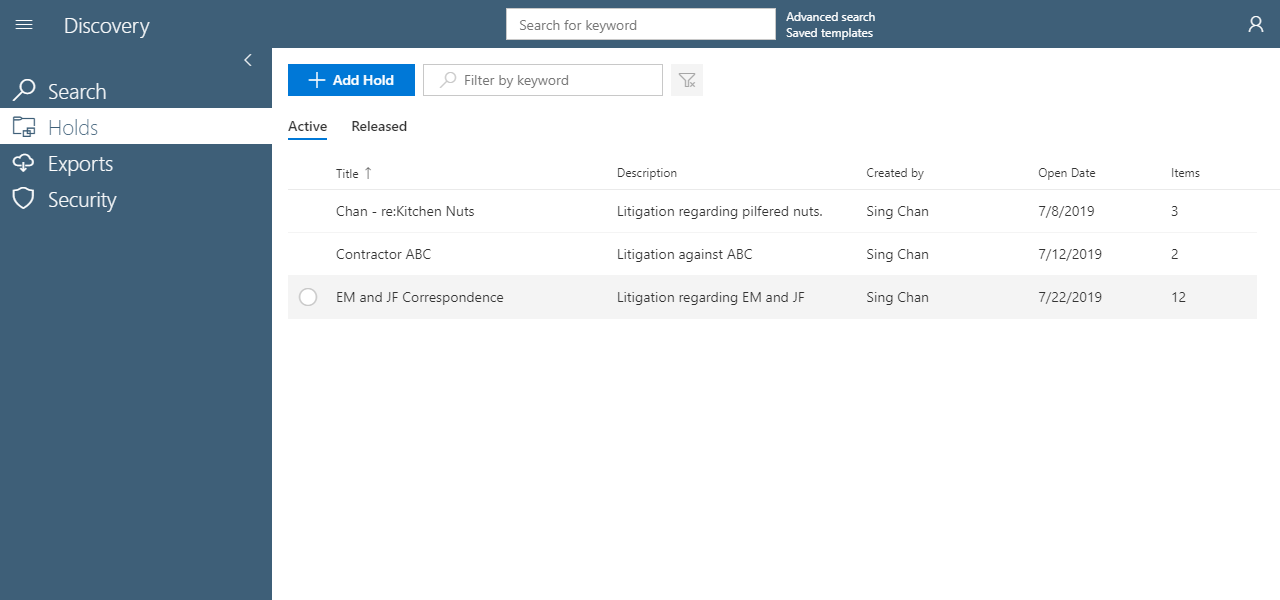 Figure 4: In the Collabspace Holds page, the Discovery Admin can see all the different Holds and click in for more details (number of items, exempted items, and audit information).
Collection Phase and Organization ROI with Exempt Feature
This information can be exported and sent straight to the lawyers from the Holds page. But what about the documents that have been captured in this wide net that aren't relevant? Lawyers could sort through all content and charge the organization for every hour spent. However, it would be more valuable for the Discovery Admin to have the autonomy to sift through and exempt irrelevant content items from that list, sending only the content that is truly case-relevant.
Of the results initially captured in the search of 'Jane Foster and Eric Masterson,' going to the Holds page and preforming a more specific search shows only four pieces should be placed on Hold. The Discovery Admin can select these and mark everything else as Exempt, which not only removes the irrelevant content from this Hold, but will also ensure that it is not placed back on Hold by future queries. All that is left is to export those four documents and send them off to the lawyers. If there are any questions around that specific Hold, the Audit ability captures everything so Discovery Admin can look back if they need to refer to anything.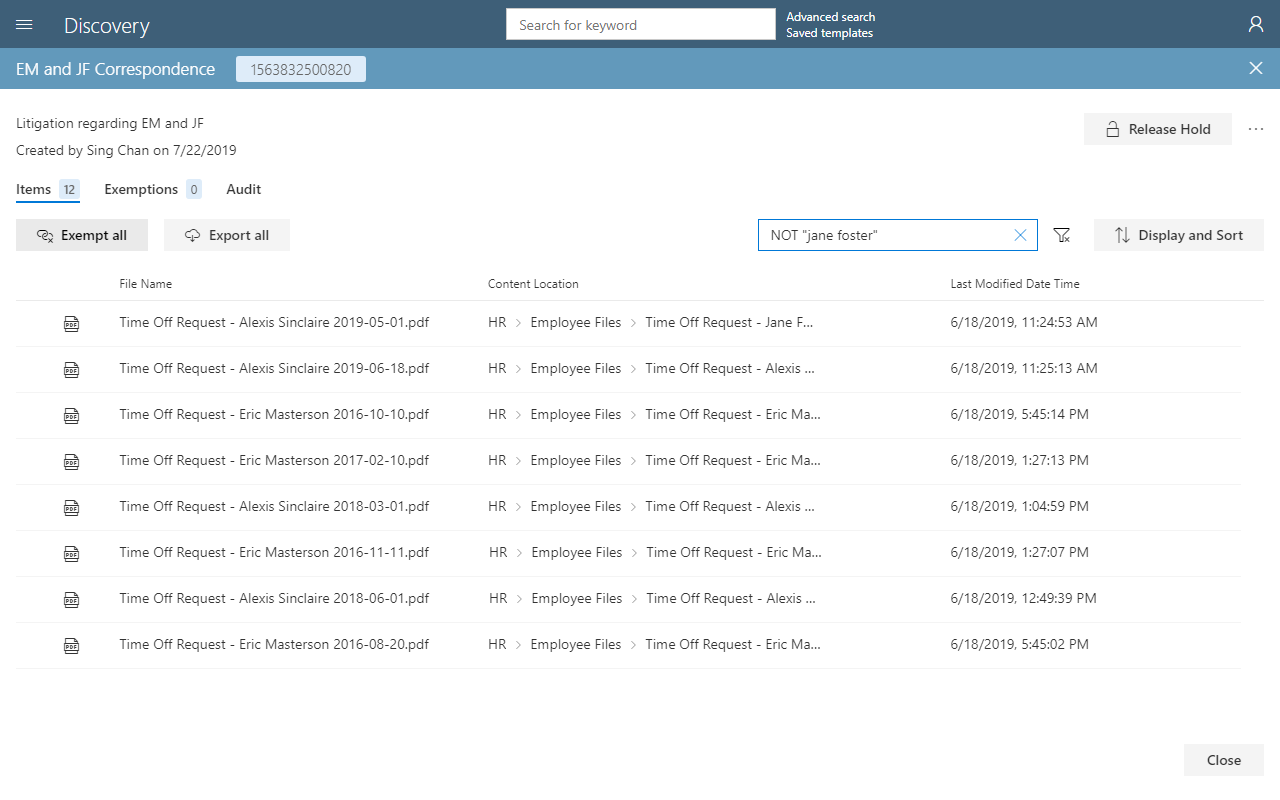 Figure 5: The Discovery Admin may see Items in the Hold that are not case-relevant, such as the Time Off Requests for Alexis Sinclaire.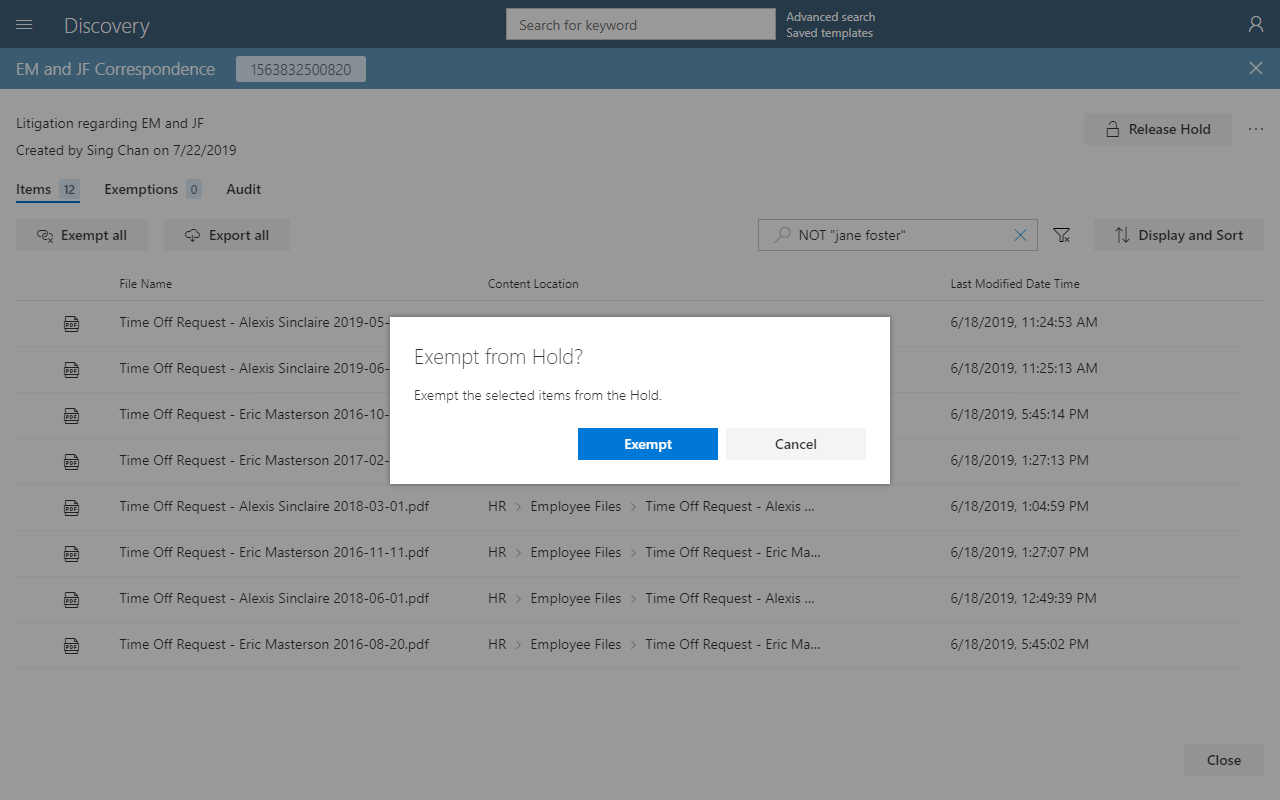 Figure 6: Any content not relevant to this litigation case can be Exempted from this Hold and Search Query.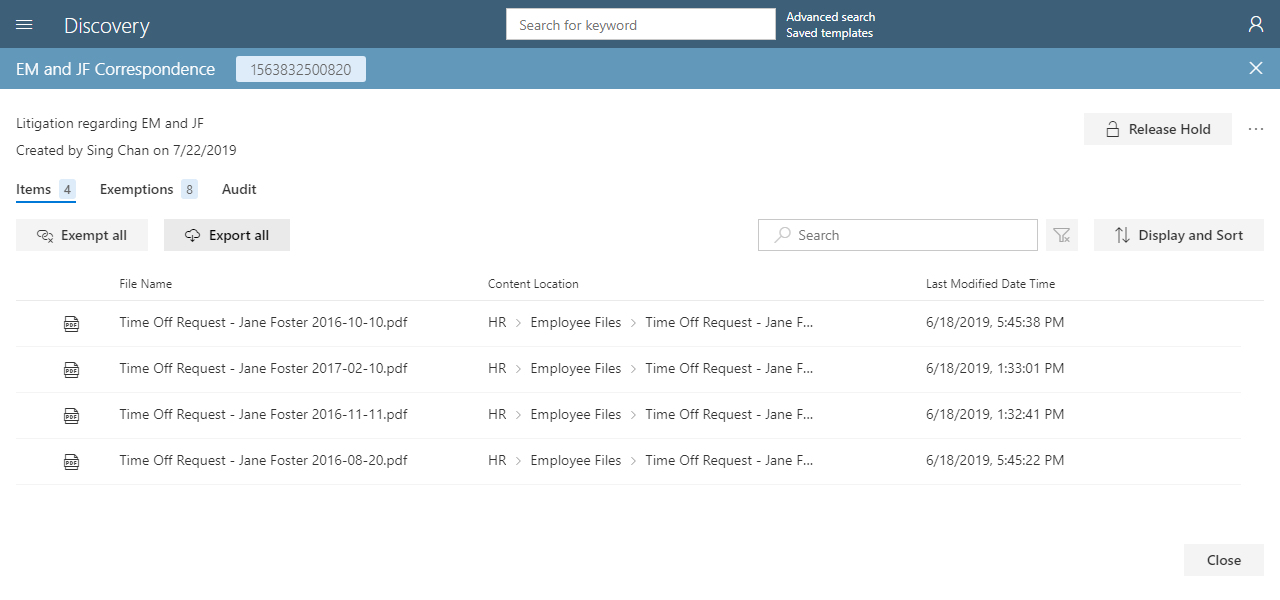 Figure 7: The list has been narrowed to four relevant piece of content. The final step is a quick Items export, and sending to the necessary lawyers.
At the end of this process, both previously mentioned Legal Hold requirements are met: information relevant to the case is locked down because Collabspace has WORM-compliant storage, and disposition is suspended. But more importantly, Collabspace provides organizations with an incredibly quick, standardized method to identify the relevant information and place Holds which are transparent to end users. By giving Discovery Administrators the autonomy and capability to narrow the search, the organization saves a lot of time and money that would have gone to lawyers going through potentially non-relevant documentation.
Maybe that saved time can be used to book a session on ethics and legal requirements for Jane and Eric.
Want to learn more? Check out our blog post on e-Discovery. For more general RM-related articles, check out our blog articles (such as the Importance of Record Classification). If you have questions about Legal Holds or whether Collabspace is a fit for you organization, please contact us. You can also download the free brochure below to learn more about Collabspace: