This article shares how EBSCO Industries, a multi-national conglomerate, was able to achieve seamless integration between their Outlook, SAP & SharePoint, reduce their risk profile and lessen the burden on IT tickets. (Hint: they transitioned to a scalable cloud archive).
We'll cover their:
While this is an overview, you can access the free, full-length case study below, which includes details on additional challenges/victories, their solution search, implementation process and future plans.
Backstory
Since its founding 77 years ago, EBSCO Industries has grown from a team of friends selling magazines door-to-door into one of the largest privately held companies in Alabama. This conglomerate now comprises over 40 businesses, including information services, publishing, manufacturing and more.
With a mission to better understand their customers' needs and deliver meaningful products and services, EBSCO needs to ensure their business-critical information is properly stored and quickly accessible for sales and organizational continuity.
Previous Systems
EBSCO originally stored their business-critical files in legacy servers. They also used SAP as their enterprise resource planning (ERP) tool, a custom developed accounts payable (AP) tool and held licenses for SharePoint that were not yet being utilized for the SAP accounts payable integration.
Challenges
With the previous set up, EBSCO experienced the following challenges and limitations:
1. Expiring and near Capacity Legacy Servers
The servers EBSCO stored these files in were aging operating systems quickly nearing end-of-life.
2. A Need to Improve Their Risk Profile
These servers also posed a potential security risk and were becoming more vulnerable as they neared end-of-life. Since they contained business-critical data, the EBSCO IT team knew they needed to store this content on a platform that provided dependable security, accessibility and control measures.
3. Lacked Efficient Search Capabilities
Searching content on old servers was limited. Other integrated systems, such as SAP, lacked appropriate content discovery. In addition, the IT team was unable to see IT invoices without worrying about compromising SAP Security practices, limiting their documentation visibility
4. Heavy Ticketing and Burden on IT Team
These legacy servers and storing processes required constant attention and maintenance by the EBSCO IT team. When files were not being saved correctly, it would generate a regular cadence of support tickets for IT to resolve.
Breaking

Point
The trigger for an upgrade? One of the legacy servers had reached its retirement date and held no promise of keeping the data securely intact much longer. The EBSCO team knew they had to address this potential risk immediately and wanted to utilize their Microsoft enterprise licenses. This would require a solution that could support their current processes while integrating SAP, and other apps down the road.
After research, demos and validation, EBSCO selected Collabspace and Collabmail for the following reasons:
Discussions with the Collabware Services Team demonstrated that they could support EBSCO's needs to integrate and sync SAP and SharePoint.
Collabmail offered a reliable solution for staff to quickly and easily transfer SAP-related documents from email inbox to SharePoint with minimal change to their current process.
Collabspace was the only solution they found with end-to-end content management coverage and advanced search capabilities beyond title and metadata, including OCR.
It was established that the Collabspace platform would provide a solid foundation for fully secure infrastructure, scalability, future development and integrations
Solutions
1. Transitioned to Scalable Cloud Platform
One of the biggest benefits brought by using the Collabware products was stabilizing their storage. As
Collabspace was able to backup old server data (in the event of an emergency), migrating content to SharePoint became less stressful.
2. Ensured Security Compliance
From legacy servers into ransomware-proof, access-permissions protected, WORM-compliant cloud
storage: EBSCO's security risk profile significantly improved.
3. Superior Search Capabilities for Text and Image-Based Files and Attachments
Collabspace and the VersaFile docuflow connector provided the gateway between Microsoft tools and
SAP that EBSCO had been looking for. Not only did they get integration, but Collabmail gave staff a way
to easily move their SAP documentation from email directly (and reliably) into SharePoint with simple
drag-n-drop.
4. Greatly Reduced Burden on IT
Lack of ticketing is a tangible example of the value that both Collabmail and Collabspace brought for the IT Team. What used to be a stream of maintenance requests and tickets has diminished down to virtually no tickets regarding saving email-received files, and linking these files with SAP.
Conclusion
By implementing Collabspace and Collabmail, the EBSCO team was able to stabilize content storage, ensure security compliance and enable accurate discovery across their organizational content. The IT team is enthusiastic and relieved to have a system they can rely on to begin modernization projects for other departments, and to expand on even more capabilities Collabspace has to offer.
To read the full, in-depth report on all of EBSCO's challenges, their search for a solution, implementation process, victories and future plans, access our free case study below.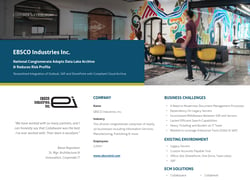 If you have any questions or need help on your next project, please reach out!