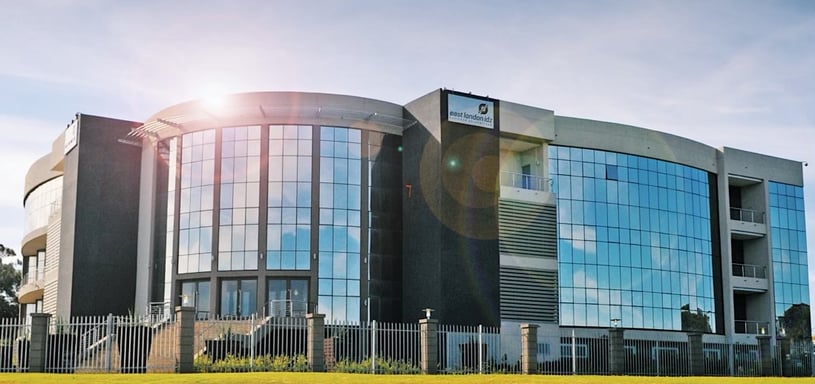 The East London Industrial Development Zone Head Quarters. Image courtesy of ELIDZ.
Initially, the East London Industrial Development Zone (ELIDZ) used a paper-based approach to store the majority of their records. This manual approach not only left the business development firm at risk of lost, damaged or duplicated content, but also required legislative requirements be met. One implementation project later, they modernized their records management for an efficient, secure and compliant program. This article shares how.
We'll cover ELIDZ's...
While this is a brief overview of their story, you can access the free, full-length case study below, which includes additional challenges/victories, as well as details on their solution search, implementation process and future plans.
Backstory
In September 2002, the East London Industrial Development Zone (ELIDZ) was one of the first South African IDZs to be awarded a provision operator's license. Since, ELIDZ has worked to develop, operate and maintain modern infrastructure, attract strategic investments and inform the SA government's Special Economic Zones (SEZ) programme make up and policy framework.
As a driver for building out and modernizing South African (SA) business development, ELIDZ requires the proper processes and solutions for their data to ensure compliance, accessibility and team efficiency. To achieve this, ELIDZ worked with Collabware and COR Concepts to update and optimize how their data was being stored.
Previous Systems
Initially, ELIDZ used a primarily paper-based approach for their records and required a manual scan and-capture approach to digitize content into their legacy Open Text system.
They had Microsoft licenses for SharePoint but were not using it to its fullest potential. They also used Sharegate and Nintex integrations for migration and process automation but were still lacking complete records management compliance coverage.
Challenges
Using these previous tools, the ELIDZ team experienced the following challenges and limitations:
1. Risk of Lost, Destroyed & Duplicated Records with Mainly Paper-Based Approach
With a primarily paper-based approach to their records, ELIDZ encountered manual processes such as manual classification and risked data loss with misplaced or damaged physical records. They also experienced redundancy, since every time an invoice needed to be paid, another pack of records would be physically produced. This resulted in a quickly growing volume of paper-based duplicates.
2. Previous EDRMS Lacked Departmental Data Accessibility & Efficient Processes
In their day-to-day operations, different departments at ELIDZ need access to the same information and efficient processes for managing it. ELIDZ staff faced challenges with the paper-based approach and previous system because they were not integrated with business processes and everyday business activities.
3. Lack of Automated Records Disposition
Since ELIDZ is connected to the provincial government, the team must adhere to exacting records management policies and procedures, including the…
To comply with the Provincial Acts under NARSSA, ELIDZ must transfer all their A20 closed files (records prescribed as permanent) to the Eastern Cape Provincial Archives after 20 Years of in-house preservation.
ELIDZ must also be compliant with Directive 5015.2 by the Department of Defense (DoD), which outlines minimum records management conditions be met and sets requirements for mandatory baseline functionality of Records Management Application (RMA) software.
POPIA is a SA privacy law with sections that came into effect July 2020 and June 2021. This act has rules about how records should be retained, how a structured classification scheme should be developed and requires a disposal programme be implemented and followed carefully by organisations.
Breaking Point
They ultimately decided to implement Collabware CLM because:
Collabware CLM runs within existing SharePoint infrastructure and extends the platform to manage electronic, email & physical records.
This system brings end-to-end content lifecycle automation capabilities to SharePoint, including case management, workflows, search, content review and disposition.
Collabware CLM is DoD 5015.2 certified and has the security, auditing, export and defensible disposition features necessary to ensure compliance with all the regulatory policies that ELIDZ must follow.
All of this is integrated with SharePoint and runs compliance features in the background, providing end users with a seamless experience without needing to learn a new system environment.
We get into how ELIDZ implemented Collabware CLM in the full-length case study, available for free download below.
Solutions
1.Created Efficient, Long-Term RM Processes & Reduced Redundancies
By upgrading where information is being managed and improving processes around this, teams no longer have to create multiple files for every invoice. Information is managed in SharePoint and Collabware CLM, cutting down on the volume of redundancies and eliminating risk of physical alteration or loss since all are digitally secure and searchable.
2. Leveraged Holistic Approach to Bridge Records & Business
Prior, there was a gap between records management and how the business operations ran. Bringing in automation of key processes replaced outdated scan-and-capture methodology, eliminated previous silos and allowed teams to search and access the information they needed. Their new system was now better aligned to their day-to-day business processes.
3. Gained Organisational Compliance and Corporate Governance
Their initial efforts with COR Concepts to learn and implement governance tools, including compliance-built-in Collabware CLM, allowed ELIDZ to get approvals from the national archives to comply with governmental policies. Using Collabware CLM and SharePoint, they can now properly classify and retain their A20 permanent records and transfer them to the national and provincial archives after twenty years.
Furthermore, using a DoD-certified solution with workflow, precision search, case management, auditing and more, ELIDZ can breathe easy knowing that they are using a tool that ensures compliance across various policies.
Conclusion
ELIDZ is a beacon in South African Business Development, a driver leading the change in the region's modernization. They required the updated processes and tools to further optimize how they ran and managed their records.
Hiring COR Concepts to better learn and prepare for regulatory requirements and then implementing Collabware CLM allowed ELIDZ to finally get a balance of user adoption and meeting organisational business requirements. ELIDZ now has set background structure in place to ensure legislative and regulatory compliance, while giving their staff freedom on the front end with automation capabilities and an easy-to-use SP environment. This has been helpful for different business units across ELIDZ and will also positively impact ELIDZ's customers.
To read the full, in-depth report on all of ELIDZ's challenges, their search for a solution, implementation process, victories and future plans, access our free case study below: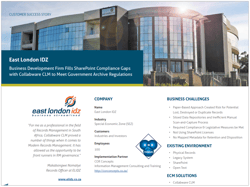 Can you relate to the ELIDZ's prior challenges? Contact us, let's chat about how we can support your team and improve your information governance and overall business process needs:
Curious to read more about how organisations achieved success with Collabware CLM? We've got a story about the First Nations Summit decluttered their content for optimization and ensured compliance.