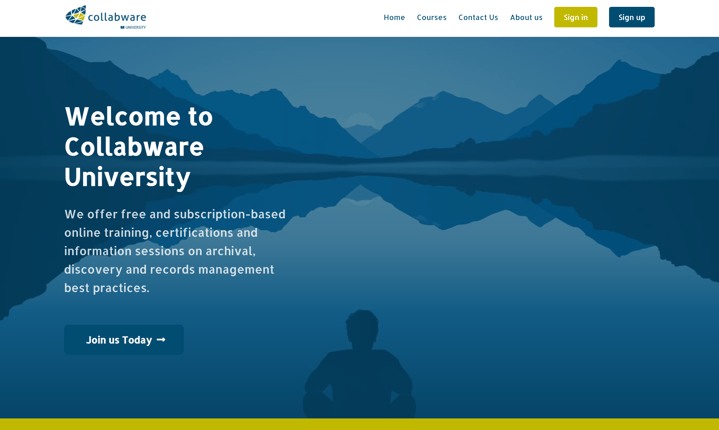 Collabware University homepage.
School's in session! We've launched Collabware University (Collab-U), an online learning portal that will offer courses on software training and information governance best practices.

Why? We wanted to create a central hub for training, education, networking and connection.
Quoted in our press release announcement, our Director of Customer Success, Karen Thompson, shares:
"We are thrilled to finally create a space to not only offer anytime access to our training, but as we evolve, to host the best educators in the industry. We are working to build a well-rounded collection of course topics to keep our customers and those doing information governance roles at the forefront of what's new and effective."
Curious? We've included a quick video clip at the bottom of this article as a teaser preview for one of our courses.
In addition, here are 9 things you can expect if you sign up to be a student at Collab-U...
1. Train or Brush up on Software Knowledge
Whether your team has just implemented one of our software solutions, or you have a newly hired team member that requires training, we'll have a course for that!
For example, our first published course, Collabspace 101, provides a complete walkthrough of all the capabilities available within our cloud solution, Collabspace. Containing short yet engaging video lectures by our resident Records Management Analyst and Solutions Architect, units cover everything from common terminology and basic setup to how to use advanced search and email best practices so you can get the most value from your Collabspace experience.
That is just the beginning, with more courses to come.
2. Increase User Adoption
Furthermore, software and the personnel maintaining it will change over time. We want to make sure that any customers using our solutions always have access to the resources they need to maintain user adoption and upkeep successful implementations. Through Collab-U, we hope to keep existing and new members of your team up-to-date on the latest upgrades and changes to our solutions.
3. Information Management Best Practices
Beyond training courses on software capabilities, Collab-U will be releasing courses around information management best practices. We already cover some email management best practices, and a course on how AI applies to your information management.
We want to utilize our accumulated decades of experience in IM to educate and support teams with their information governance, whether that be ensuring organizational measures meet compliance regulations, proper data protection or permissions-based data accessibility to have all the information needed, when needed, to work optimally.
4. Flexibility to Learn at Your Own Pace
Want the knowledge, but have a busy schedule? We've accounted for that.
While our units are thorough, the lessons have been broken down into bite-sized videos that can be watched at your own pace. So whether you have a few days or a few minutes that you can set aside, rest assured that the course units will remain open for you throughout the year to learn at your preferred speed.
5. Industry Expert Instructors to Guide You
For our first few courses, we've brought on some of our most experienced Collabware teammates who have rich knowledge on the software and practices to share with you! As we build out more courses, we also plan to recruit additional topic experts from different industries to bring their valuable perspectives to Collab-U.
6. Continued Support
Beyond the bright minds instructing, we've got a team onboard for your course support. Meet our Core Team behind Collab-U and reach out to us if you have any questions.
7. Community of Like-Minded Learners
School is more fun with others! Collab-U has an online community forum, which is a gathering place to connect with other course members to chat about course material, help each other out, network and discuss experiences.
8. Access Free Courses and Additional Resources
Attending Collab-U will require a subscription with one annual fee to access all courses, certification exams, Collab-U forums and interactive support for the entire year.
However, we will also be adding bonus courses and free additional resources, such as videos and blog articles, to provide you with the opportunity to learn and explore topics further.
9. Get Certified

Upon successful completion of related video lectures, quizzes and the final certification exam, members will be awarded with a Collab-U course certification exam to recognize their attained knowledge of the software and/or industry best practices.
For example, those who have graduated Collabspace 101 will be certified as a Collabspace Specialist. This signifies the work that you have completed, and that you are ready to use our software to its fullest potential to best support your team.
Enroll Now!
Keen to start learning? Enrollment is now open, and bulk discounts are available by contacting Collabware directly. Have a browse of what Collab-U has to offer and contact us today for the scoop on discounts. Happy studies!
Here is a sneak peek into our intro to Collaspace 101: