Free and Subscription-Based Courses will Cover Software Training and Continued Learning for Information Governance Best Practices.
For Immediate Release

Vancouver, B.C. - Collabware, a leading provider of archival, discovery, and records management software, today announced the opening of Collabware University – an online learning portal for software user training and courses around the latest information management topics. Software Certifications will be awarded to those who successfully complete and pass relevant course exams.

While Collabware has and will continue to provide onsite training where needed, the virtual learning school offers a centralized place for users to complete their courses on a flexible schedule and at their own pace. Course units are set up in short and manageable sections that can be repurposed as reference materials and remain as a resource for continued learning. As businesses change or add new staff members, they can access the necessary training as soon as they're ready with 24/7 registration.
"We are thrilled to finally create a space to not only offer anytime access to our training, but as we evolve, to host the best educators in the industry," says Karen Thompson, Director of Customer Success at Collabware. "We are working to build a well-rounded collection of course topics to keep our customers and those doing information governance roles at the forefront of what's new and effective."
Subscribing to Collabware University will cost one annual fee and includes access to all courses, certification exams, the Collab-U Community Forums, interactive support and additional learning resources.
"We create Collabware products to be simple to use, so the beauty in attending Collabware University is being able to elevate your information management knowledge," says Graham Sibley, CEO of Collabware. "Our goal is to have you complete your course knowing how to meet the latest compliance regulations and equipped with tactical skills and extended tips to take full advantage of all the software features to make your work tasks a lot easier."
Collabware University launches with a full suite of course units for cloud product, Collabspace. Successful graduates will be certified as a Collabspace Specialist. Enrollment is now open. Bulk discounts are available by contacting Collabware directly.
###
Learn more about what to expect from Collab-U, or...
Register Now for Collabware University: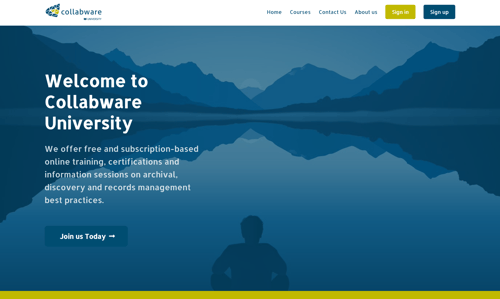 About Collabware
Collabware helps enterprises and governments achieve legislative and regulatory information management compliance by providing intelligent archiving, discovery, and records management solutions. By automatically protecting critical content and revealing dark data, Collabware solutions increase organizational transparency so information can be properly retained, managed, and harnessed for business optimization.
For more information, visit www.collabware.com.
Press Contact
Angela Dion, Collabware
1-855-268-0442
contact@collabware.com