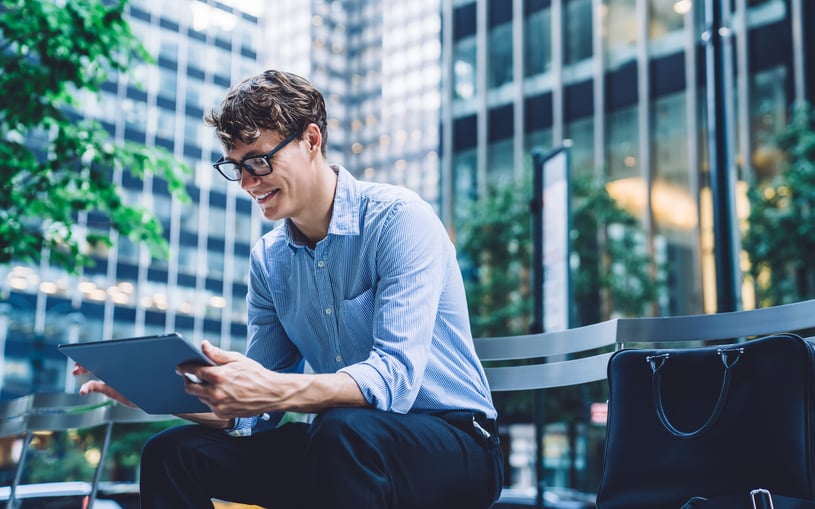 Man sits on city bench and looks down at a tablet he is holding. Image courtesy of Adobe Stock.
While conversation about 'big data' is not new, discussion about unstructured data intelligence is emerging yet pressing. The significant increase in organizational data can be any company's strength and competitive edge, but only with proper visibility in place. And that's what unstructured data intelligence brings to the table.
We've written a full white paper on this topic, which you can access for free below. This article provides a teaser and answers some basic questions, including:
What is Unstructured Data Intelligence?
Before sharing the value and tools for unstructured data intelligence, lets break down the terminology...
Structured vs. Unstructured Data
Structured data is often categorized as quantitative data, while unstructured data is categorized as qualitative data.
Key differences between these data types have been summarized in this visual: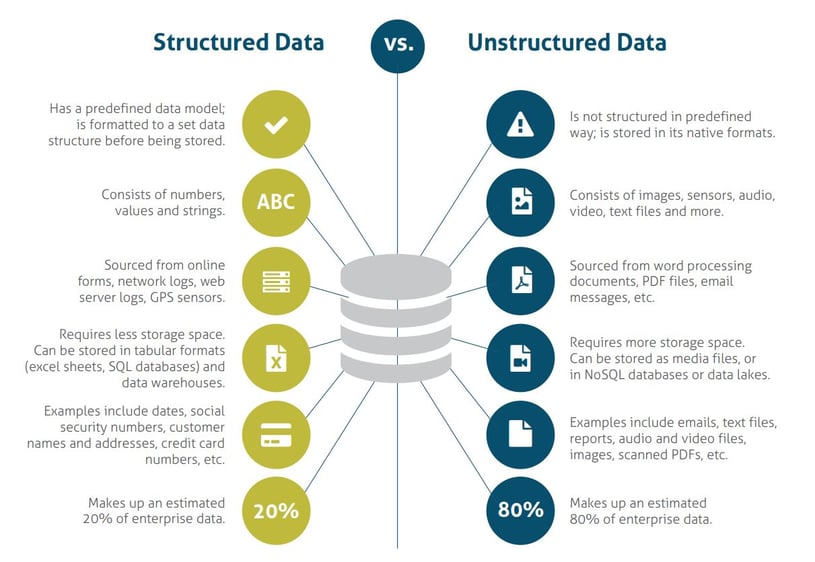 What is Data Intelligence?
General data intelligence refers to performing analysis on various forms of data, often using artificial intelligence and machine learning models, to better understand the data environment and harness this knowledge for strategic decision-making.
What is Unstructured Data Intelligence?
Taking it one step further, unstructured data intelligence is the analysis and transformation of unstructured data. Since unstructured data makes up the majority of enterprise data, unstructured data intelligence is particularly valuable because it offers organizations full visualization of all the data they have stored. With access to this type of intelligence, the analysis and visual breakdown of analytics for insights would allow teams to make better business decisions based on all their enterprise information, opening the possibilities.
What is the Value of Unstructured Data Intelligence?
As was shown in the comparison chart above, an estimated 80% of enterprise data is unstructured. If properly utilized, this data can be an organization's biggest strength. It provides teams with the necessary information to streamline day-to-day employee tasks and offer oversight of organizational performance and insights that are helpful to grow and improve business operations.
To name a few more, unstructured data intelligence can be used to:
Derive insights and intelligence from all organizational data
Automate identification and classification of data and data parts
Summarize and contextualize information from data
Automate discovery and association of process-specific data
Identify consumer behavior, product sentiment, purchasing patterns with data mining
Better plan and adjust to market shifts with predictive data analytics
Organizations that do not take advantage of data intelligence for their unstructured content are missing a big opportunity to run more efficient and cost-effective operations in a competitive and demanding marketplace. Not only is it common sense to truly know what is happening with your data from a security and productivity standpoint, doing so gives you an edge in strategic planning and getting a faster return on your infrastructure investments.
What are the Organizational Challenges of Unstructured Data Intelligence?
Despite its value and, we'd argue, necessity in a world of rapidly multiplying content, there are several obstacles to gathering intelligence on unstructured data:
Volume
The sheer volume of enterprise data, which is growing every minute, can be impossible for any one team to completely oversee without additional tools. Forbes published an article stating that 2.5 quintillion bytes of data are generated every single day.ii The World Economic Forum estimated that the total digital universe exceeded 44 zettabytes in 2020.
Considering that unstructured data includes 80% of formats, the volume of this type of data specifically is
continuously expanding and using up more storage capacity in an organization's local file networks, inboxes, Google or Microsoft suite platforms, team communication channels and across other go-to platforms.
Unstructured Format
According to Forbes, there are different needs for dealing with structured versus unstructured data. While structured data is highly organized, easy to store, and simple for machine learning algorithms to decipher, unstructured data is more challenging to store, process or analyze because it does not have a predefined data model.
Structured data can be kept in data warehouses or SQL databases, while unstructured data requires unconventional storage with more space to allow for the data to be kept in its native formats. This whitepaper will get into the ideal storage for this type of data in the following section.
Limited Visibility
Pair the large variety of unstructured data formats with the considerable volume across multiple repositories, and without proper processes or solutions in place, this equates to a major lack of data visibility. Having permissioned admin roles unable to see or access relevant data prevents organizations from performing optimally, as it becomes dark data, meaning it is stored but not utilized for any other purpose.
Spread across all these different traditional platforms, the data is scattered so data intelligence cannot be performed. In addition, most of these original repositories, such as file shares or an inbox, are not designed to process this volume of data. They lack the processing power required to manage data intelligence, so they can only act as a storage repository rather than a space for gathered insights.
What are the Tools Necessary to Achieve Unstructured Data Intelligence?
To overcome the challenges of volume, varied format and limited visibility, the right tools are required. For
unstructured data intelligence purposes, an intelligent data lake is a solid solution because it is created to store large volumes of data in its native formats, while having the powerful processing necessary for analysis and aggregation of ingested data.
Read our blog article on the topic to learn more about data lakes, how they compare to data
warehouses and how to gain the most value from this type of content service.
To be able to achieve unstructured data intelligence, a data lake should be scalable, offer high performance,
and include the following:
Processing to Enrich Unstructured Data
Algorithms that Derive Insights from Enriched Data
Visuals that Surface Relevant Insights in Context
A Foundation that Supports Artificial Intelligence for Machine-Augmented Decision-Making
We deep dive into each of these four sections in our full-length whitepaper, available for free download. You can also watch our team mates, Christine and David, break down the value of an intelligent data lake in the video below:
What are the 4 Steps to Achieve Unstructured Data Intelligence?
Achieving unstructured data intelligence requires proper security, active data accessibility, basic insights and deeper insights with machine learning. We show this in the visual below, expand on each step in our free whitepaper (available for download below) and break each down even further in the videos embedded below the visual.

Step 1: Security
Step 2: Active Data Accessibility
Step 3: Basic Insights
Step 4: Deeper Insights
Conclusion
Unstructured data intelligence provides organizations with a holistic picture of what unstructured data they have available so they can access any necessary information and visualization of insights from this data and use it to improve and optimize how the organization runs, spends, interacts with its customers, builds its products, stores its content and so much more. With the increasing volumes of organizational data, this type of data intelligence can keep companies competitive in today's competitive market.
Interested to learn more about unstructured data intelligence? Download our free full-length whitepaper, below. We've also written articles on data lakes and data analytics if you'd like to read more!
For more on how your organization can apply and utilize unstructured data intelligence using Collabspace, contact Collabware with your questions or to see a demo.