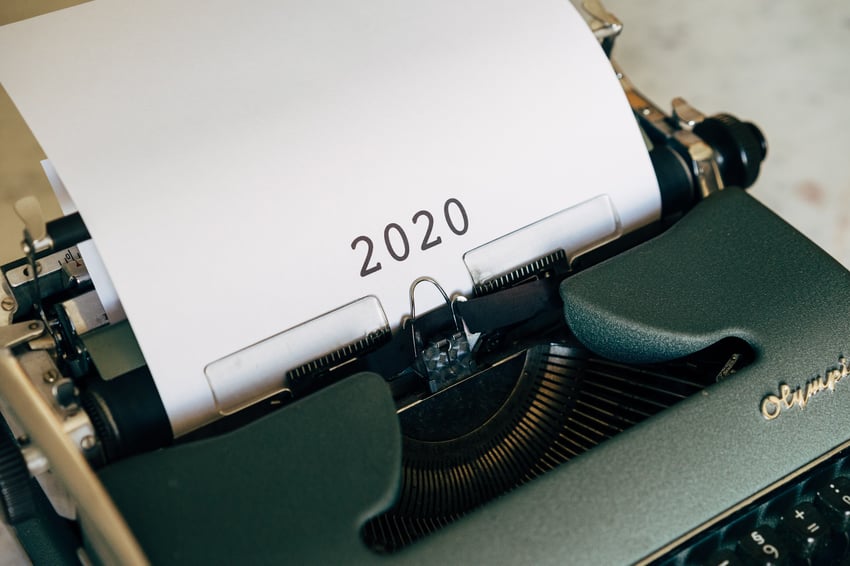 Image courtesy of Pexels. Photo by Markus Wrinkler.
2020 has been a year of the unexpected, to say the least. However, we've adjusted and pivoted to overcome the challenges. For the Collabware team, this meant changing our work environments, shifting events to a virtual format, and adjusting our sales and services processes to ensure that our customers felt continuously supported.
Along the way, we've created content on information management, artificial intelligence, new technology, goings-on at Collabware and more. As we approach the end of this memorable year, here is a wrap up of some of our top topics covered:
Top Content Topics of 2020
1. Data Continuity
As many organizations have shifted their work to remote environments, the importance of proper access to data cannot be understated.
Some lessons? Having solid content management processes and systems in-place prior can help prepare organizations for unanticipated shifts. However, hindsight is 2020 (ba dum tss) so today is as good a day as ever to begin implementing these processes and using the most helpful tools. Our services team is happy to help you with that, by the way.
To support this initiative, we wrote on how to address data access pain points when working from home:
Business Continuity During COVID-19: Addressing 4 Work From Home Pain Points Accessing Data
The phrase 'economic volatility' was used often in news coverage this year. We also covered how properly managing data can improve business processes and make struggling organizations competitive, with a focus on the oil and gas sector:
Volatility in the Pipeline: How Data Can Address Common Challenges for Oil and Gas
2. Security
Alongside data access, another necessity when working remotely? Data security. Working from different locations and devices, organizational data is at risk of privacy breach more than ever.
Does your organization have the proper measures in-place to ensure that only the right eyes view your content? Check out this article on the steps we've taken to ensure top notch data security with our cloud solution, Collabspace:
Data Privacy in The Cloud: How Collabspace Ensures Security
This year, Collabware also completed the Service Organization Control (SOC) 2, Type 1 Security and Availability Compliance audit. Check out how we proved that we secure data in the cloud and ensure protection of customer privacy.
Collabware Attains SOC 2, Type 1 Compliance Level for Security and Availability
3. Compliance
Where many of us worked during 2020 may have changed, but the need to remain compliant with information management has not. We've updated our Records Management Compliance Checklist, and written overview pieces on DoD 5015.2, SEC 17a-4 and upcoming mandate M-19-21:
Records Management Compliance Checklist
Directive M-19-21: What it is and how to Achieve Compliance
Why Achieve the DoD 5015.2 Certification?
DOD Data Strategy: 7 Goals and How to Achieve Them
4 Features Needed to Ensure SEC 17a-4 Records Management Compliance
4. E-Discovery and FOIA Requests
A great follow up for both data continuity and compliance, ensuring that all members of your team can quickly search and find the content they need should be a given. Unfortunately, that's not always the case. Finding a file on your local network drive can take minutes, while processes such as FOIA requests can take weeks.
This time can be cut way down. Check out our Collabcast webinar on supercharging your eDiscovery, as well as our articles and webinars on speeding up your FOIA requests:
CollabCast: Supercharged eDiscovery
Fulfilling FOIA Requests: 3 Major Challenges & How To Address Them
How an Energy Co-op Reduced Their FOI Process Time from Weeks to Minutes
Collabcast: Effective FOI Processing for State, Local, Provincial & Municipal Government
Collabcast: Effective FOI Processing for Federal, State & Provincial Government
Collabcast: Effective FOI Processing for Energy & Highly-Regulated Industries
5. Email and Physical Records Management
Hey, don't leave your email and paper documents out in the cold. They're records too.
Seeing as managing email and physical records is also necessary for compliance, we've got you covered with articles outlining their importance and some tips to overcome common challenges that can arise with these record-types.
RM 101: What is Email Management, its Challenges and Best Practices?
5 Benefits of the Capstone Method for Government Email Management
Modernizing Your Physical Records Management
3 RM Scenarios Where Physical Records Import Brings Value
6. Artificial Intelligence and Automation
This is a fun one! But chatting about artificial intelligence under the information management lens is practical too, as 70% of companies are likely to have adapted at least one form of AI technology by 2030.
We wrote a whitepaper all about applying artificial intelligence to information governance- there's a webinar, too! We also released articles about how you can utilize technology to streamline your records management processes with automated content workflows and event triggers:
Today's AI Economy: Why Your Organization Should Apply AI to Information Management (& How!)
CollabCast: Artificial Intelligence and How it Applies to ECM
How to Use Workflows to Automate Records Management Processes & Improve Business Insights
Further Streamline Your Business Practices with Workflow Event Triggers
7. Microsoft 365 Records Management
This year, our partners at Microsoft rebranded Office 365 (now Microsoft 365), expanded offerings and released SharePoint Syntex (the first product from Product Cortex) to bring AI and machine teaching as an integration option with their IG and RM package.
What does SharePoint Syntex offer in terms of information governance? And does Microsoft 365 standalone have the necessary capabilities for complete and fully compliant records management? We've written articles and created comparison charts to get you in the know:
SharePoint Syntex Release: Capabilities & Potential Limitations for RM
Can Microsoft Office 365 Standalone Achieve End-to-End RM Compliance?
Records Management in Microsoft 365: Labels
8. Customer Success Stories
We work with the mission to free organizations from information chaos so they can increase productivity, save costs and gain insights to improve their business processes and thrive. That's why it's so meaningful to us when our customers experience success with our solutions, and we've loved connecting with a few to share their stories:
Read about how our customers over at Cobb EMC were able to unify their content and optimize their eDiscovery to save weeks of time for their FOIA processes and better serve their community:
How an Energy Co-op Reduced Their FOI Process Time from Weeks to Minutes
Our customers at the First Nations Summit freed up volumes of exceeded storage space, and automated their records management processes to ensure compliance while they were at it! Read their story:
How an Action-Oriented Organization Decluttered Content & Ensured RM Compliance
9. Virtual Events
While we could not meet in person this year, we did not shy away from connecting with both new and familiar faces virtually! The Collabware team participated in and spoke at virtual industry events such as ARMA InfoCon. We also created a series of virtual Collabcast sessions to share on some of our favorite topics.
Missed InfoCon 2020? We've got you covered. Here are the main topics we took away from this industry-leading event:
7 Takeaway Topics of ARMA InfoCon 2020
We plan to host in-person events when it's safe to, but the CollabCast virtual events have been a wonderful way to connect and educate! It's free to access recordings, check them out:
CollabCast: Artificial Intelligence and How it Applies to ECM
CollabCast: Records Management in Office365 - Features and Gaps
CollabCast: The Data Lake Approach to Cross-System Records Management
And more! See the full list of sessions on our Event Page.
10. Collabware Culture
You know what's as awesome as our customers and our solutions? The team behind it all. Despite the bumps in the road, we managed to adapt, continue building and had some wonderful times after work with our virtual happy hours (check our Instagram for the Zoom selfies).
Pssst. We're looking for more awesome people to join this awesome team. Check out our Careers Page.
We experienced challenges and joys, and we were honored to be mentioned for both our work innovations and culture:
Collabware Included in Innovation Index 2020 by Deep Analysis
Collabware Makes the 2020 List of Best Workplaces™ in British Columbia
Collabware Makes the 2020 List of Best Workplaces™ for Inclusion
Collabware Makes the 2020 List of Best Workplaces™ for Mental Wellness
Collabware Makes the 2020 List of Best Workplaces™ for Today's Youth
And that's the Collabware content wrap up! While 2020 took several unexpected turns, we've enjoyed the learning and growing we did as a team along the way. What was your favorite topic on our list? Any other topics around information management that peaked your interest throughout 2020?
We'd love to hear about it, comment below! Be sure to subscribe to our blog for more, and if you have questions about any or all of these topics or the services Collabware provides, please contact us!