For Immediate Release: June 22, 2020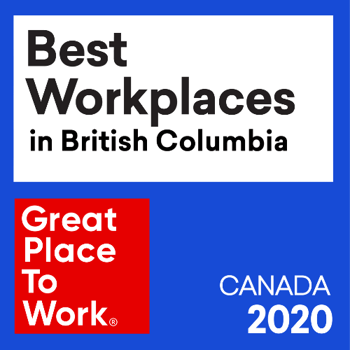 Collabware is proud to announce that our organization has been named on the 2020 list of Best Workplaces in British Columbia.
It is Collabware's second consecutive year to earn this honour after a thorough and independent analysis conducted by Great Place to Work®.
"Our team really represents the special diversity and spirit that you would expect to find in BC", says Collabware SVP of Operations, Anastasia Hunter. "From the impeccable umbrella etiquette to our hard-working and determined team members innovating every day, Collabware is proud to be a part of the tech community, started right here in Vancouver."
This list is generated based on direct feedback from employees of the hundreds of organizations that were surveyed by Great Place to Work®. The data has a 90% confidence and a plus or minus 5% margin of error.
To be eligible for this list, organizations must be Great Place to Work-Certified™ in the past year, be headquartered in British Columbia and have at least 10 employees working in the province that participated in our Trust Index employee survey. Great Place to Work determined the best based on the overall Truest Index score from these employees .
Collabware is certified as a Great Place to Work and is delighted to add this title to the other lists we've been recognized for by Great Place to Work®, including:
Best Workplaces in Canada 2020
Best Workplaces for Inclusion 2020
Best Workplaces for Mental Wellness 2020
Best Workplaces for Technology 2019
Best Workplaces for Millennials 2019
See the full list on our careers page.
------------------
About Collabware:
Collabware brings calm to information chaos with intelligent information management and collaboration software designed to make teams more productive, protect high-value information, and help organizations rapidly locate the information they need to make better decisions. With offices in Canada, USA and the UK, our software has been internationally deployed by companies in regulated industries, including: finance & insurance; mining & natural resources; government; healthcare; manufacturing, utilities, transportation, entertainment and education.
About Great Place to Work®:
Great Place to Work® is the global authority on high-trust, high-performance workplace cultures. Conducting the world's largest workplace study, surveying over 8,000 organizations representing more than 10 million employees in more than 50 countries, GPTW provides tremendous understanding of effective business cultures and the increasingly complex marketplace. Through proprietary assessment tools and services, GPTW recognizes the world's Best Workplaces™ in a series of national lists including those published by The Globe & Mail (Canada) and Fortune magazine (USA). GPTW provides the benchmarks and expertise needed to create, sustain, and recognize outstanding workplaces, and supports clients as this accelerating pace of change compels organizations to continuously adapt, innovate and thrive.
Press Contact:
Angela Dion, Collabware
1-855-268-0442
contact@collabware.com