When speaking about the future of records management, electronic records tend to be the focus. Everything from automated document lifecycle workflows to implementing best practices for managing email. However, many organizations still work with a large amount of physical records and even with digitization efforts, this will not change any time soon. Our view on this? Let's have a conversation about how to streamline and bring physical records management into the twenty-first century.
The Business Challenge
Currently, many organizations have an existing physical records system that may involve an Access database, Excel spreadsheet, or a third-party stand-alone system. These likely haven't been enhanced for years and are costly and awkward to maintain. Frustrations arise for records managers around findability when needing to locate or circulate items. And the reality with physical records that have been filed away into an inaccessible system is that they tend to be forgotten and their full business value is negated.
As proponents for the value and business insights data can provide if properly harnessed: these outdated ways just won't do.
The Solution
To address this, we'll be using some of the upcoming Physical Records Management features for cloud-based solution Collabspace to exemplify how using the right tool can eliminate frustration felt with previous systems around RM practices for physical items.
Collabspace allows users to manage their electronic and physical records from one place. For records managers, this means a centralized file plan, retention policies, access controls, and disposition approvals consistent for both electronic and physical content. For other end users, this is about findability: internet-like searching of the information to make locating and circulating physical items as quick and simple as possible.
We've already provided a demo showing how on-premise solution, Collabware CLM, provides unified search and integration of organizations' physical items file plans, retention policies, and disposition approvals. Now let's cover how this will soon be available in the Cloud with upcoming Collabspace capabilities...
1. Physical Location and Space Management
With a solution like Collabspace, users will have access to a visual representation of their physical library where they can build out and define container structure. There are no restrictions with how wide or deep an organization's container hierarchy is represented. Containers and their definitions can be updated and changed as necessary.
For each container, administrators can define Asset ID, Barcode, Title, Description, and select a Container Template (see previous section for details) to define additional metadata for the container (see Figure 1). When end users navigate to a container, they can view its content in a search-like interface where they can define custom columns to display, sort, and do keyword filtering on the content of the container.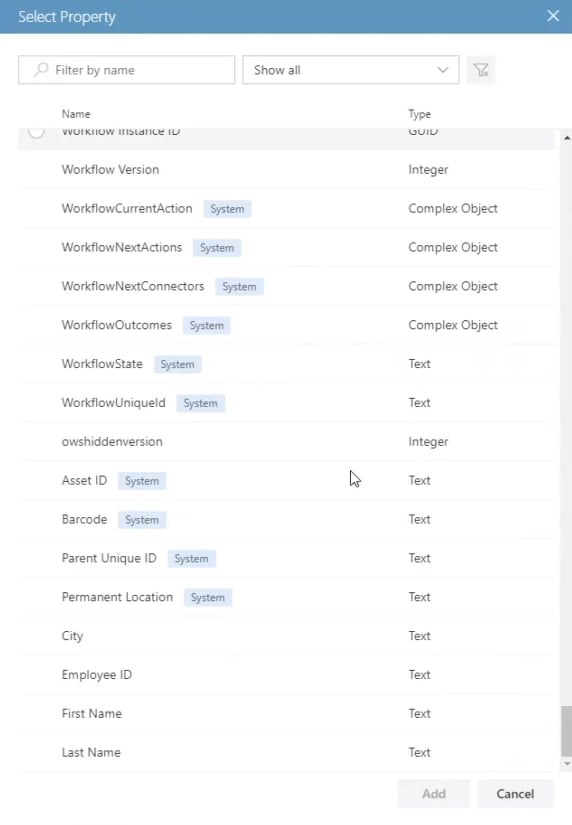 Figure 1
Security and access controls can be applied to Containers, meaning administrators can define security groups and select permissions around who can manage containers, view content, manage content, and circulate content (see Figure 2). There is also an allowable content limit (unlimited, limited, or no content), that users can apply to containers.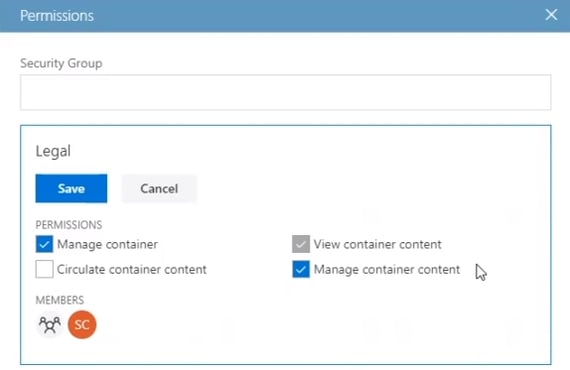 Figure 2
Physical content management is available with space management distribution logic: meaning end users can submit and send boxes to different facilities and distribution logic will go and find all spaces available in the next facility to store them. For example, if an organization needs to move five boxes into another warehouse, not only will Collabspace show the facility itself, but it will pull up the first five available spots that the items can be moved to within the warehouse.
Those with appropriate access permissions can easily search through physical items, and clicking on an item will open the Detail Panel, which is a preview displaying its child items. For example, clicking on a box will display a list of the folders inside, and each of these is clickable so end users can see which folders reside in those (see Figure 3).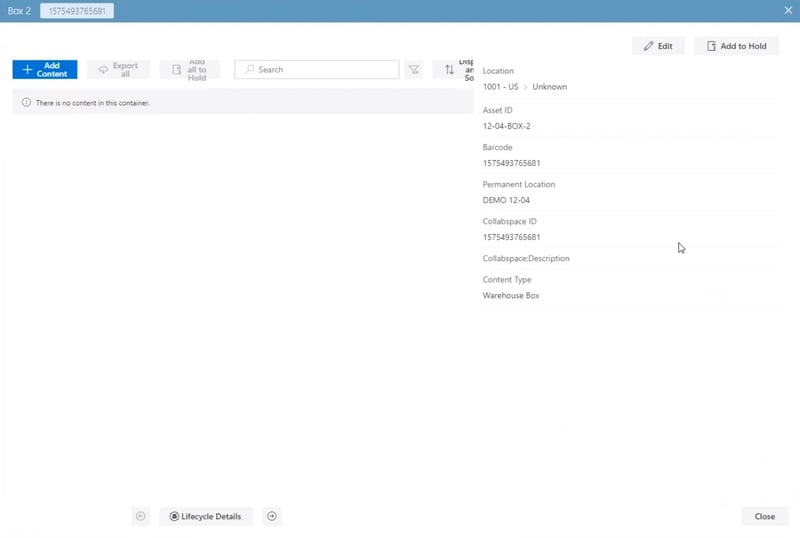 Figure 3
2. Physical-Specific Search
As previously mentioned, users can easily find what they are looking for using both keyword and advanced search queries that solely target physical content (see Figure 4). These searches can be shared with others through search templates (see section 4), and can also be easily exported.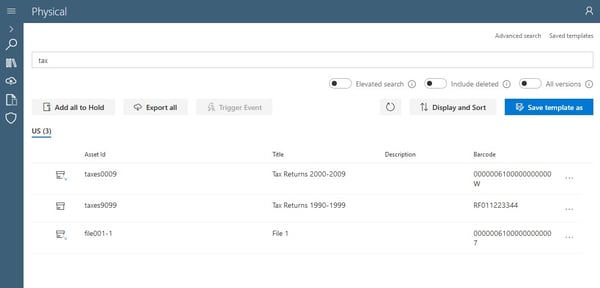 Figure 4
3. Physical Records Imports
Users can save time by taking bulk action on various types of activities including creating or updating content and containers, circulation, categorization, and moving content (see Figure 5).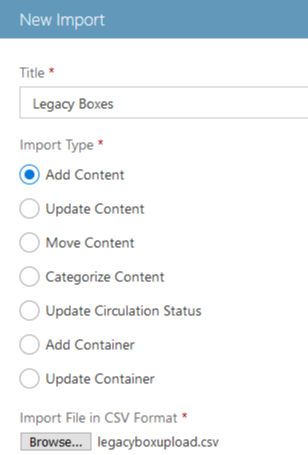 Figure 5
4. Physical Object Templates
Administrators have the ability to create templates for containers and physical content (see Figure 6). Here, they can define the types of metadata that end users would like to capture for their specific container or content type.
Container types can be used to define containers of content based on the organization's best practices and needs. They can reflect world locations and items or concepts: for example, with Office location, they can be built out as Building > Floor > Room > Cabinet. If split up by Departments, it could be broken down into Legal, Accounting, etc. Since they are customizable, there is no limit to the ways that the structure can be defined.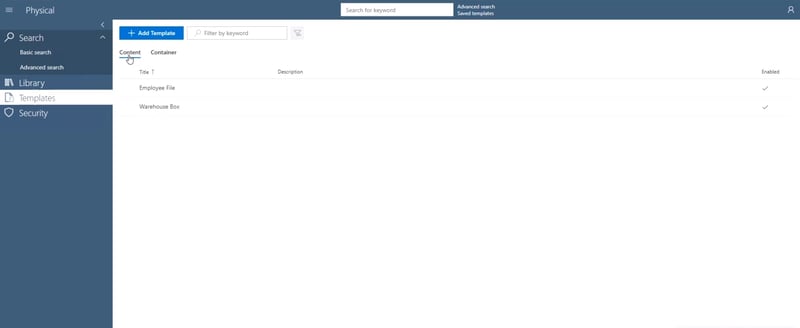 Figure 6
An example with setting definitions for Content Types (rather than Container Types) could be that the metadata used to represent an Employee File would likely include the employee's name and ID, so that end users can easily search based on these properties. Another example could be around a Legal Matter, where the metadata for these templates would be Client ID and Case File number (see Figure 7). As with Container Types, there are unlimited options with how users can define their content.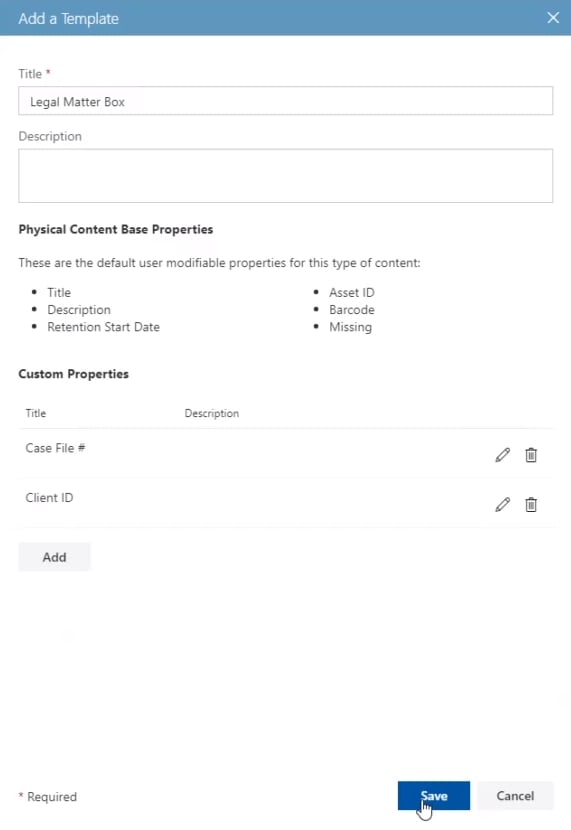 Figure 7
5. Physical Circulation Processing
Users with circulate content permission on a container are able to retrieve and charge out the items to whoever requires them. The chain of custody will show who has the item now for circulation purposes and who has had it prior, which is useful for audit purposes.
6.

Physical Label and Barcode Printing and Processing
The Asset IDs and barcodes* in Collabspace will be unique across physical content and containers. Since many organizations have their own systems in place around Asset IDs and barcode systems for Physical Items, Collabspace will allow end users to inherit these values from previous holding systems.
Users can either leave the barcode value blank and Collabspace will automatically populate it with a Collabspace Unique ID when they create a new object, or if they are importing and already have barcodes for everything, end users can input that value by scanning or filling it in manually.
7. Disposition Review Process for Physical Records
Physical items will also be able to undergo disposition approval reviews and generate disposition certificates, and Collabspace will make this process as straightforward as possible.
Through workflows, records managers can create their disposition approval lists and see upcoming disposition approval reviews. They can filter content that goes into these lists by different content types and policies, or by the record categories themselves. For example, if a folder must first be reviewed by Legal and then HR for disposition approval, this can be set and sequenced. Then each department would check the list out to review and approve the disposition of the items.
The final disposition review would likely go to the Physical Records team, who can start the disposition process and once the item has been physically destroyed or transferred to National Archives before they confirm its disposition in Collabspace.
Lastly, Disposition certificates can show all outcome assignments for these reviews, which are useful for legal and audit purposes.
Conclusion
Physical records will not be going anywhere any time soon, but outdated practices can be replaced with modern physical content management. Collabspace has a simple interface that will host a visual representation of the hierarchical physical library that is highly configurable to the organization's needs. With convenient, simple-to-use features, users will be able to manage their physical items in a way that increases leverage of corporate information for decision-making, and enhances discovery through integration and consistent application of retention policies for physical records. Not only will they save time and frustration, but cost will be reduced by eliminating standalone system infrastructure and decreasing physical storage space requirements through accurate and timely destruction of physical records.
Want to find out more about these upcoming physical records features, and how these and other Collabspace features can benefit your organization? Contact us with questions or download our free Collabspace brochure: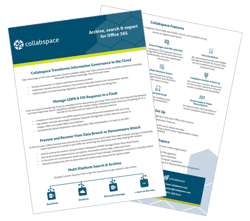 Want to learn about other Collabspace features? We've got articles about automated workflows, search templates, content review lists, holds features, and more on our blog!
*To differentiate: while barcodes and the Collabspace Unique IDs are made up of random numbers and letters, Asset IDs allow business users to determine what the actual item is.