Using Collabspace Physical Records Management features can eliminate a lot of the frustrations felt with previous systems around RM practices for physical items. While we've already covered general PR features in a previous blog, today we'll focus on how Physical Records Import can be used in three use case scenarios (and beyond!) to bring ease to management of your organization's physical content.
What are these features?
The Physical Records Import features will allow Collabspace users to take bulk action on various types of activities, including creating or updating content, creating and updating containers, circulation, categorization, and moving content.
What would this look like in action? We've got three examples showcasing the value that these features can bring to managing your physical records...
Three Use Case Scenarios
1. Streamline Legacy Content Migration
The buildup of legacy paper records is often an inevitable pain point that many record managers experience with physical content. For example, if an organization merges with another company and is taking on their content, months' worth of efforts may be required to sort through thousands of newly acquired boxes. Records managers are then required to input box data one-by-one when using basic, adhoc SQL databases.
The PR Import feature makes it easier to manage and keep track. Using the bulk imports feature, users can save time by inputting all of this box information together rather than individually.
Image shows CSV legacy box data before it has been imported into Collabspace.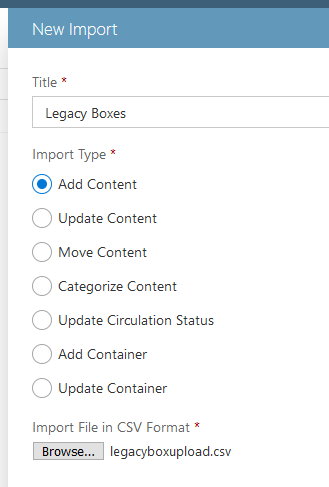 Image shows radio button options to bulk add, update, move, etc.

Image shows Legacy Box data upload pending.
Image shows the legacy box data uploaded into Collabspace.
2. Bulk Metadata Modification
Beyond uploading the content into Collabspace, users can also modify metadata of this content in bulk. For example, in the case that content does not yet have a close date. In a law firm, a case has been closed and twenty files require a close date to be applied so retention can be calculated. Instead of going through file by file, with Collabspace, users can update the close date onto all relevant case files.
After a scanning project, need to update which items have been scanned. Can bulk apply to all scanned material in one go to keep track. "Can modify existing metadata of items that have been scanned in bulk, rather than one by one."
3. Save Time by Updating Circulation Status in Bulk
For reasons such as legal holds or FOIA requests, lawyers, clients and/or team members may request paper records. This requires records manager to track when the content has been charged out, to whom and for how long. Updates to content circulation status, especially within a large organization, can be time consuming and frustrating when input one-by-one if multiple clients/team members are checking in and out.
With the Physical Records Import feature, a record manager could input the Charge In or Out status of multiple orders in a single upload.
The biggest value throughout? Saved time! By allowing users to skip one-by-one import and modification of physical records data by allowing them to bulk action on items, the Collabspace bulk import feature will cut time down significantly for the records managers. And it doesn't end with the scenarios we've listed: these features can be applied to many other business processes. Contact us to chat about how your organization can take advantage of Collabspace, or download our brochure below to learn more: