Collabspace enables organizations to archive and manage content from multiple repositories for comprehensive compliance, searchability, records management and analysis.
For Immediate Release
Mar. 2, 2022 UPDATE: – Collabware announced the achievement of upgraded security stage to FedRAMP® In Process High Impact status for Collabspace from FedRAMP).

Dec. 9, 2021 - Vancouver, B.C. – Collabware, a leading provider of data protection and records management software, today announced the achievement of FedRAMP® Ready High status for Collabspace from the U.S. Federal Risk and Authorization Management Program (FedRAMP). It stands as currently the only cloud Software as a Service (SaaS) solution in the FedRAMP Marketplace with archival, discovery and records management capabilities to earn this compliance designation.
FedRAMP standardizes security assessment and authorization for cloud products and services used by U.S. federal agencies. The aim is to make certain federal data is consistently protected and the High Baseline is the top level that takes into account the government's most sensitive, unclassified data held in cloud computing environments. The full FedRAMP High review process validates over 400 security controls and Collabware has already confirmed a portion of these to achieve Ready status. FedRAMP Ready documents the system security information, compliance with federal mandates, and ability to meet FedRAMP security requirements.
"As we began to see more government and highly-regulated organizations show interest in our products, it became clear we needed to certify that our solutions and internal business processes meet their very specific and extensive security requirements," says Doug Converse, Director of Compliance for Collabware. "This process attests to our own set of values, the trustworthiness of our services and that we value the roles our customers have in handling their governmental and citizen's data."
FedRAMP is endorsed by the U.S. government's Federal Chief Information Officers Council and controlled by a Joint Authorization Board (JAB) that comprises representatives from:
the Department of Defense (DoD),

the General Services Administration (GSA), and

the Department of Homeland Security (DHS).
Aligning with Presidential Mandate M-19-21 that orders federal government bodies to enlist proper records management systems to create, manage and maintain all permanent records and metadata in electronic format by December 31st, 2022, Collabspace provides the vehicle to meet these requirements and allows for legal and regulatory data compliance guidelines to be met.
"Working towards becoming FedRAMP Authorized is a massive investment and great undertaking for any business," says Graham Sibley, CEO of Collabware. "I'm happy to have our work scrutinized by the strictest testing protocols because we have already been doing our part to ensure data protection and transparency has been built-in from the start. Our extensive list of certifications proves that."
US Agencies can find Collabspace listed on FedRAMP Marketplace under SaaS providers and more information can be found about the Collabspace suite of information governance products at www.collabware.com/collabspace.
###
About Collabspace
Collabspace is a security-certified and highly-scalable intelligent Information Management cloud service, developed by Collabware, that enables organizations to connect to and archive content from multiple repositories for purposes of managing the content lifecycle and extracting new value and meaning through content analysis. Once under management of Collabspace, advanced enterprise compliance, discovery and records management capabilities are employed, such as OCR and audio/video transcription to help categorize and analyze records for proper retention and disposition. For more information, visit www.collabware.com/collabspace. 
About Collabware
Collabware helps enterprises and governments achieve legislative and regulatory information management compliance by providing intelligent archiving, discovery, and records management solutions. By automatically protecting critical content and revealing dark data, Collabware solutions increase organizational transparency so information can be properly retained, managed, and harnessed for business transformation. With offices in Canada, the USA and UK, our software has been internationally deployed by large enterprises and highly-regulated industries.
Press Contact
Collabware Marketing
1-855-268-0442
marketing@collabware.com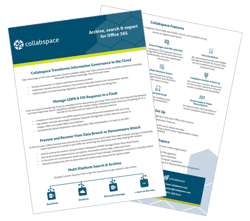 To read more about FedRAMP® High, see our article going into depths about what it is and its value.