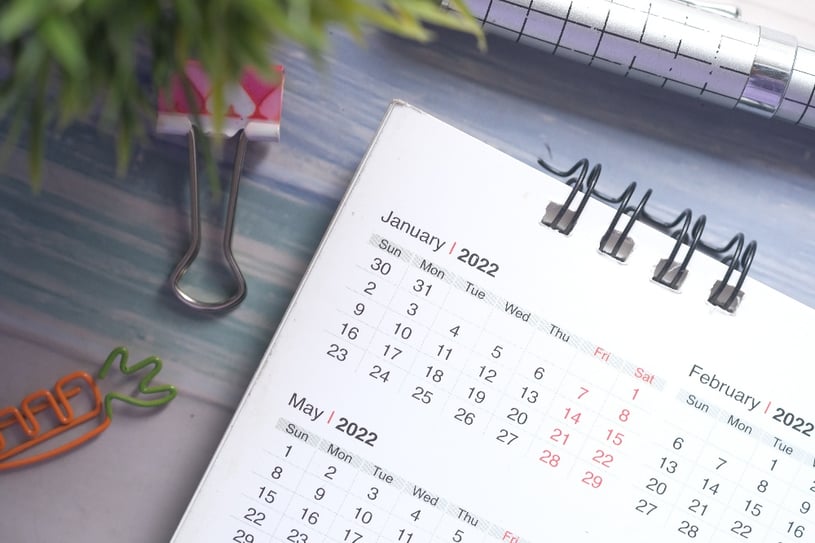 2022 calendar on a desktop with paperclips. Photo by Towfiqu barbhuiya from Pexels
It felt like a blink of an eye, but 2021 has passed and we are now staring down 2022.
Just like last year, we're setting resolutions at Collabware for our products and the content we share.
Here are our five goals for 2022...
1. Continue Educating about Optimized Information Management & Data Intelligence
We've got a team of information governance and solution delivery experts at the ready. And they've got some great tips and tricks to share.
Last year, they wrote some goodies, such as how to simplify complex search scenarios, modernize your files plans and manage your physical records digitally.
It doesn't stop there. This year, we plan to share more knowledge, both on the Collabware Blog (stay tuned!) and Collabware University, our learning hub that hosts knowledge sessions with the latest on our solutions and broader IG topics.
2. Accomplish and Celebrate Customer Success
With Passion for Customer Success as one of the Collabware Core Values, our team will continue working hard to ensure our customers' teams find success in whatever project we are supporting them on. We shared about how EBSCO, SSVEC and ELIDZ thrived in 2021, and we hope to share more customer success stories this coming year.
3. Ensure Continued Data Protection
We've broken down how our solutions are built with data security in mind (such as our cloud solution being WORM-compliant) in 2021. This year, Collabware will continue to stay diligent by building out even more security features and sharing knowledge on how to best maintain data privacy.
4. Continue Achieving Our Compliance Certification Objectives
Our solutions are compliant for a long list of certifications to remain industry-standard ready for your organization. Just last year, we further ensured SOC 2 Type 2 Compliance, were listed in the FINRA Compliance Vendor Directory, and achieved FedRAMP Ready High. We'll keep working so this list will keep growing! Keep an eye out or ask us if you have questions regarding your company's legislative or organizational requirements.
5. More Data Analytics and Insights!
From sharing on the value of content enrichment to releasing our records and data analytics dashboards, 2021 was an insights-rich year here. We plan to push this envelope further, building out and delivering more data analytics and insights features in the year ahead.
Which resolutions excite you the most? Have any to add? We wish you a healthy, happy and successful 2022, and encourage you to reach out if you have any questions!