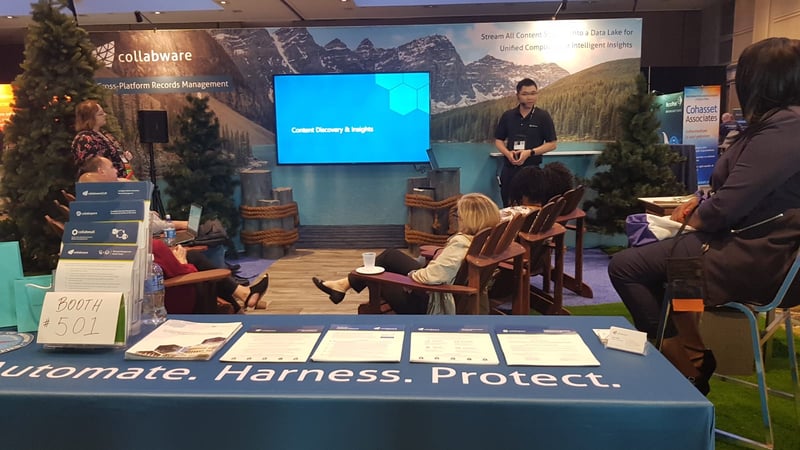 Information session about optimizing eDiscovery at the Collabware booth during ARMA International 2019.
It's that time of year again! The Collabware team traveled south from our Vancouver, BC office to Nashville, TN for the 2019
ARMA International Conference
. This
annual conference brings together information management professionals from all over the world to gather, network, and access education sessions. It's a great event to stay up to date on the latest and greatest in managing organizational information. Like last year, we were excited to have the opportunity to chat with some of the attendees about what themes stood out to them and what topics they'd be interested to learn more about.
Here are seven topics that were top of mind from ARMA International in 2019:
1. Getting a Seat at the Table
Records managers attend conferences such as ARMA and return home full of new knowledge and ideas about how their organizations can be improved. But what if the importance of these strategies is not recognized by authority and/or other departments?
Several of the information management professionals we chatted to agreed that they have been asking more questions around leadership and how to better convey the importance of RM best practices to the rest of their organization so they can have a seat at the decision-making table.
2. Advanced Technologies, such as AI
The future is now. Attendees spoke on how they enjoyed learning more about the current state of various advanced technologies, such as AI, and how these relate to their everyday work. For example, Collabware CEO Graham Sibley presented on what artificial intelligence is and how it can be used in records management and for other office tasks (you can access an overview of his talk
here
).
3. Mitigating Information Risk
Is your records management program fully secure and prepared in case of disaster? Whether a
data breach
or organizational change, companies should always be prepared. Not only were attendees interested in learning more about risk mitigation via audits, proper
e-Discovery
, and
RM compliance
, but we also spoke to individuals working in legal departments who wanted more information out there about keeping
legal
in mind while managing records.
4. Working with Unstructured Data
Organizations are not only working with higher volumes of data, but higher volumes of unstructured data than ever before. From images in the inbox to scanned pdfs in File Shares, how can information professionals manage this content and get the most value from it?
During our S'mores & More info session, we shared about how the data lake is a great option for organizations that have mass volumes of unstructured data to store, and how to obtain the most value from all of the information.
5. Managing Email
This is the second year this topic has been brought up (check out
last year's list
)! We heard this once again, especially from those working in government agencies. Common questions included:
How do we manage emails as records?
and
Where do we even begin for sorting through the brimming inboxes?
We guided them to our pieces on the
Capstone Approach
, which was created by NARA to help agencies manage their emails. We also have tips for
easy email categorization
and
streamlining your email collaboration
.
6. Searchability Across Platforms
Beyond knowing what content is stored in SharePoint libraries, having the ability to search within these platforms is critical for records management. Optimizing e-Discovery was something brought up continuously throughout the conference. We delivered a presentation on how the data lake approach can help you easily search across content platforms from one place. Access that presentation free in
webinar form
!
7. Physical Records Best Practices
While there is a lot of discussion about electronic records management and applying advanced technologies, many of the professionals we chatted to still work with a lot of physical records. What are some best practices and
solutions
that make working with physical documentation simpler and more efficient? These are conversations that should not be overlooked just yet!
What do you think of this year's selected topics? Are there any that you'd like to add?
Give us your feedback below, and keep an eye out on

our blog

for posts addressing some of these topics more in depth. At Collabware, we've been helping our customers with these issues while improving their organization and efficiency with simple, seamless, and transparent RM solutions. Reach out to us with any questions or for a

free consultation!