Collaborating on content from your emails just got streamlined.
Microsoft Teams has become a widely adopted tool, surpassing many of its competitors with over 500,000 organizations using the app. This hub has driven improved communication and collaboration amongst teams, cutting down the amount of emails required. However, at times email is still necessary between organization members for collaborating with external parties. These emails may contain business-critical information in the form of contracts, invoices, agreements etc.
This could pose a gap which we will address: what do you do with these business-critical emails when you need to share and collaborate on the content with your coworkers on Teams?

Problem: Lengthy Content Transfer Process
Let's delve into a common case scenario here: Marcus works on documents with his team via Teams, sharing and updating content in the channels. Marcus receives a Land Acquisition contract from an external party via email. To get review and an okay from his coworkers, Marcus could save the document from his Outlook inbox into his local file system and then upload it into the Files tab on the appropriate Teams channel.

This process is simple enough but requires many steps from Marcus to move content from Outlook to his file system, and then to Teams. What's the alternative?
Solution: Incorporate Outlook Add-in
What Marcus and many other Teams users may not realize is that the Files tab within each Teams channel is actually a SharePoint document library. Storing files there to share with your team members could be made a lot simpler with the right Outlook integration tool.
Screenshot A: File tab in Microsoft Teams is actually a SharePoint document library.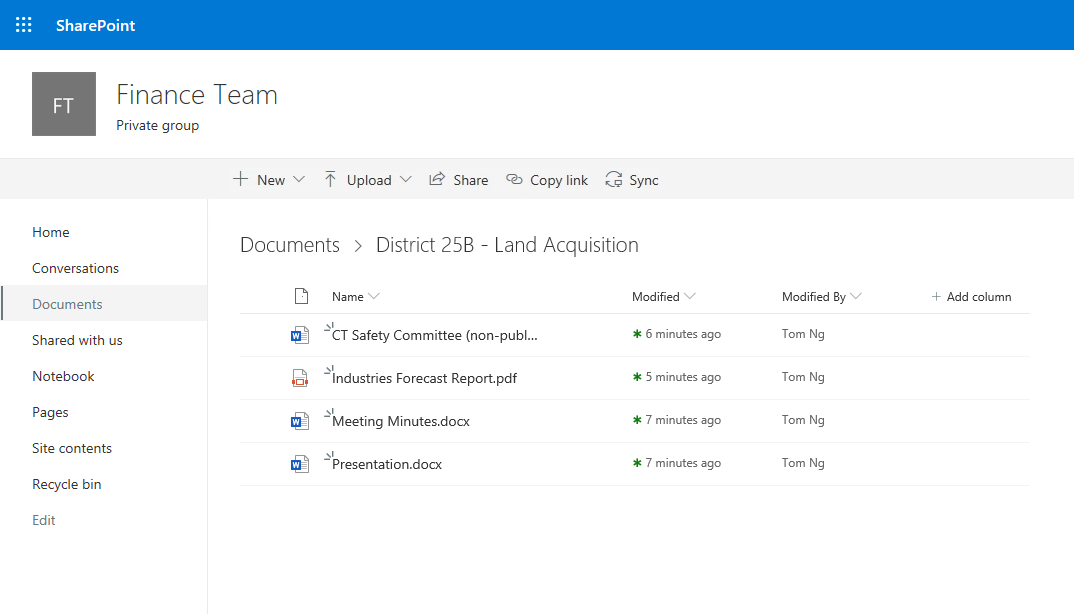 Screenshot B: SharePoint document library within Teams.
Collabmail, for example, is a Microsoft Outlook add-in that integrates drag-n-drop functionality for fast filing and navigation of SharePoint directly from your email inbox. With Collabmail, Marcus can simply drag and drop that Land Acquisition contract right into his Teams folder.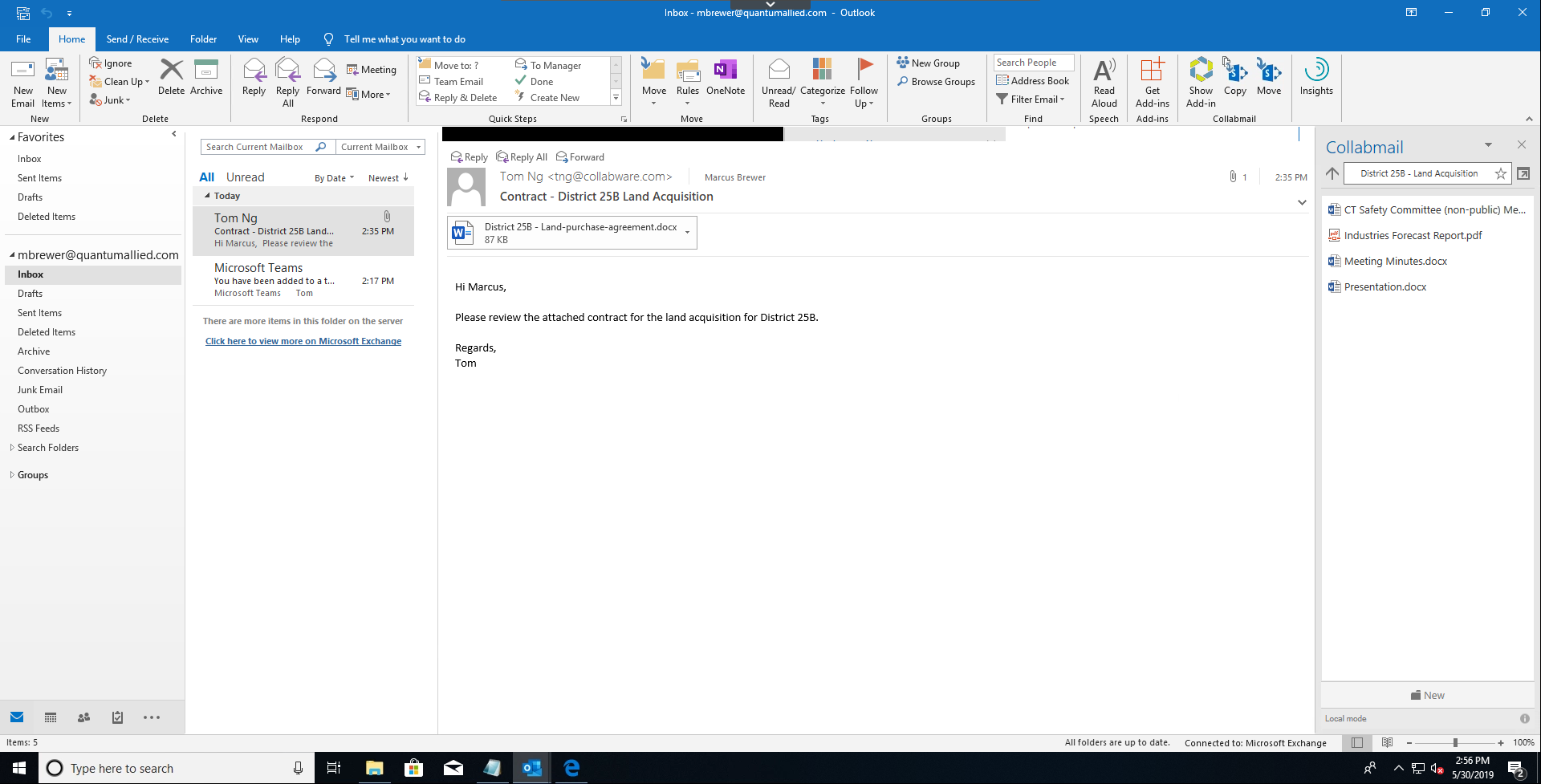 Screenshot C: Collabmail (right side of screen) integrates Outlook with SharePoint.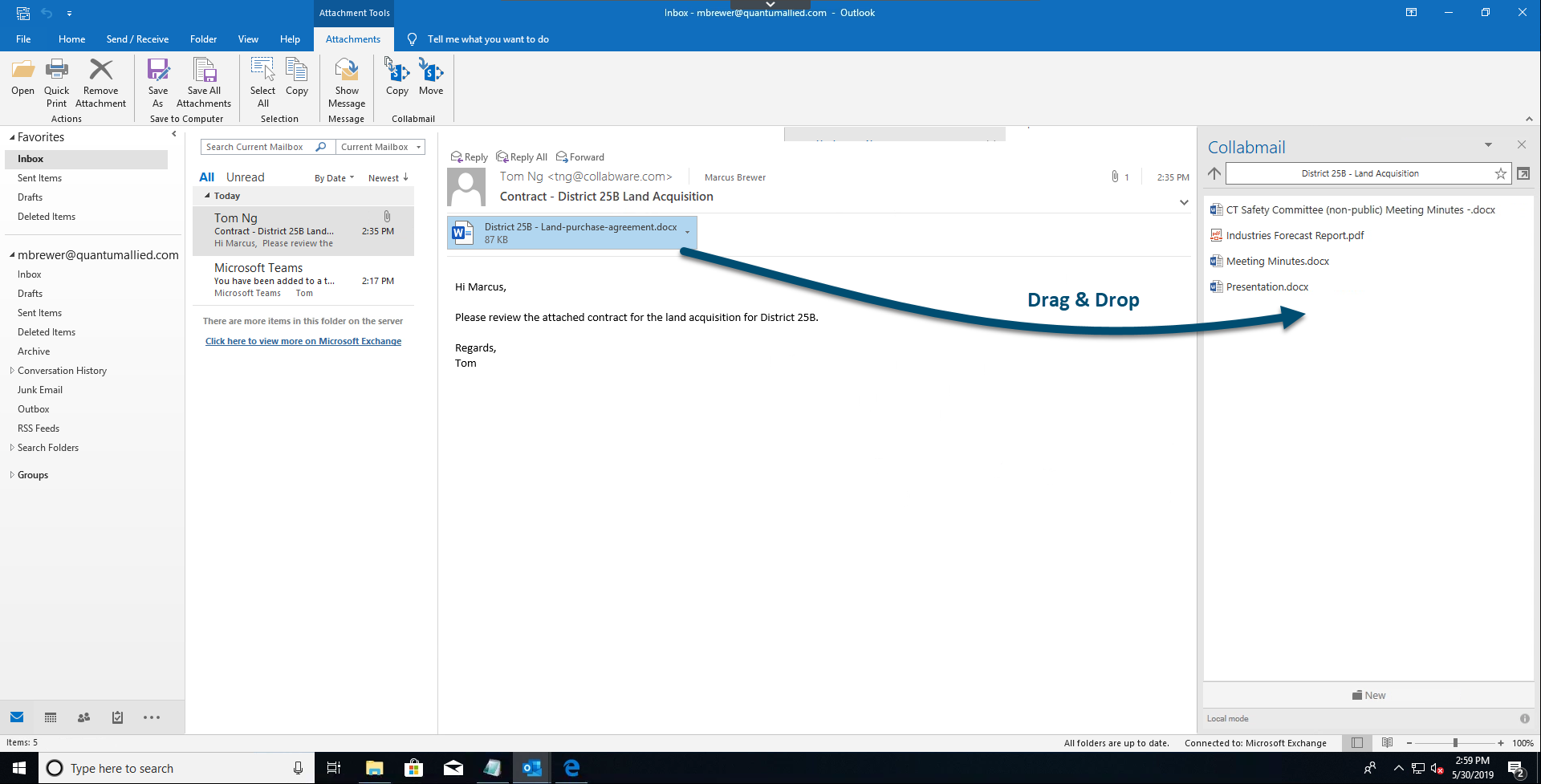 Screenshot D: Simply drag and drop necessary content right into the appropriate SharePoint document library.
Result: Less Steps for Collaboration
This integration streamlines the whole process, reducing the document transfer from five steps to three:

So now Marcus has dragged the Land Acquisition contract directly into the correct Teams channel, his coworkers have completed the necessary edits and review, and he is ready to send it back to the external party. The process is a two-way street: Marcus can also drag the updated document right from Teams/SharePoint into the reply email and send it away:

By cutting out two out of the five total steps, the process is simplified and requires less manual labor from end users: saving valuable time during every collaborative project.
Want to learn more about Collabmail, or try it for yourself? Contact us with your questions, or request a free trial. For more information on how this tool streamlines your collaboration and RM processes, download our free brochure: