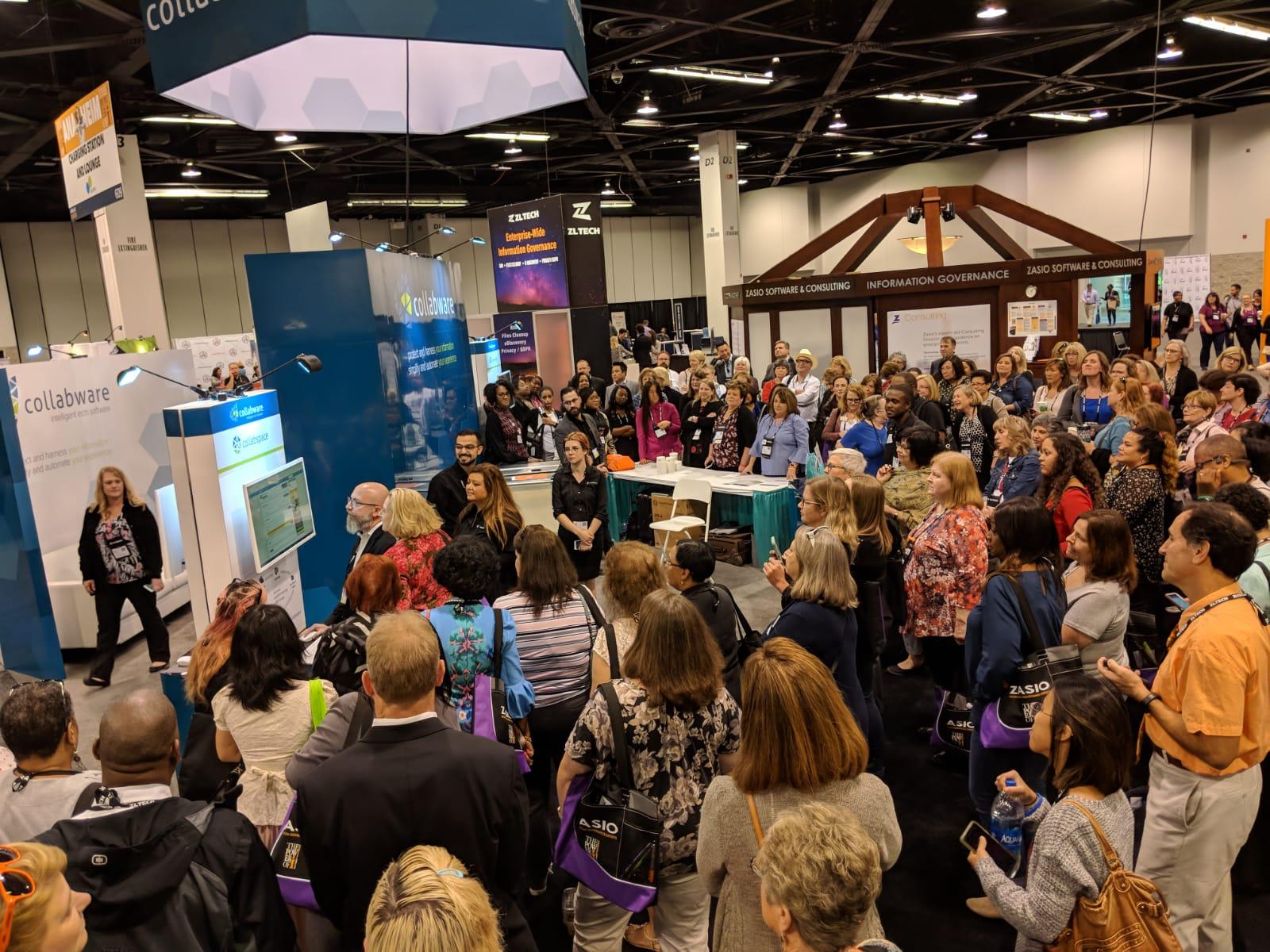 ARMA 2018: Conference attendees gather around the Collabware booth in anticipation for the Tiffany & Co. draw
Last week, some of the Collabware team jetted away from our Vancouver, BC office to sunny Anaheim, California for ARMA International 2018. This annual conference allows professionals in information management from all over the world to gather, network, and access education sessions to stay up to date on the latest and greatest in managing organizational information. As an exhibitor at this year's event, we were excited to have the opportunity to chat with some of the 1,500 attendees who hailed everywhere from San Francisco to Auckland, New Zealand. We spoke about current experiences and pain points with records management, provided demos of our RM solution products, did a prize draw (see image above) and gave presentations on information overload and RM pitfalls to avoid.
Having the opportunity to connect with individuals managing records in a space that encourages the exchange of ideas, we also wanted to learn what topics records managers would find valuable to learn more about. After asking around, here are seven of the answers we received:
1. In-house training practices
ARMA conferences are great to learn more about trends, upcoming policies, and solutions for RM. But how can new knowledge be implemented in a way that improves your organization's practices? As listed in our Health Checklist, an RM program can only be successful if RM staff and any other personnel designated to manage records have been properly trained and kept up-to-date on policies and guidelines.
One of the attendees we asked had answered that she wanted to learn more about how to formulate in-house training procedures where hired staff are easily on-boarded, and new insights are effectively communicated and implemented.
2. Why RM is important
Those working in RM understand that the work they do is vital for organizations. Not only do their roles matter because they keep track of organizational documentation, but this management also keeps companies working efficiently and staying within legal and regulatory compliance. Feedback we received shows that there is desire for more content that makes this importance common knowledge. This is useful for the next topic...
3. Getting support from other departments
Why is communication about RM importance necessary? While RM staff have this knowledge, those in other departments may not. A recurring theme in the feedback we received was for material on how to improve cross-departmental communication, since members in other sectors of an organization may work with records, have a role in the practices, and/or authority to approve implementation of more efficient RM programs and/or practices.
4. Improving user adoption
One of the records managers we asked stated that she wanted to learn more about how to improve end users' experience with RM software and processes. So not only is getting cross-departmental support and understanding about the importance of proper RM critical, but actually getting staff on board and following the processes is key as well.
There are tips and tricks that could be explored around this. However, we have found that the ideal way to improve user adoption rates is by implementing programs that integrate so seamlessly with current organizational platforms (like SharePoint) that users feel little to no impact on their day-to-day.
5. Email records management
While many organizations have standards and guidelines in place for retaining, transferring, and disposing of documents and files: what goes for the content in your inbox? In this time of information overload, it is more imperative than ever to be able to effectively sort through, organize, search, and share your necessary documents and files over email.
Filling the gap: Collabmail makes email records management easy. As a Microsoft Outlook add-in that integrates with Sharepoint (SP), it allows you to navigate and search through your SP libraries, drag-n-drop emails and attachments to SP, track vital email metadata data, and more- all from the comfort of your Outlook inbox. Find out more from our one-minute video or request a free trial.
6. Going 'paper light'
There have been talks of offices going paperless since the mid 1970's. Nearly five decades later, physical records are still at least a small part of the equation for most organizations so 'paper light' is the more realistic objective. Speaking to an individual who has seen the requirements for this role evolve across the decades, she requested more information on this trending topic. This could tie into tips for going paper light, how other organizations have taken initiative and been successful with using less paper in RM, or updates on mandates that encourage digitization such as the upcoming U.S. Presidential Mandate M-12-18.
7. What's ahead?
One of the records managers we asked kept it simple and replied that he'd like to be kept informed on what's ahead. Analytics-driven innovation, what's new and upcoming in the ever-evolving world of RM.
Would you agree that the topics on these lists would be valuable to explore? Is there anything you would add?
Give us your feedback below, and keep an eye out on our blog for upcoming posts addressing some of these topics more in depth. At Collabware, we've been helping our customers with these issues while prioritizing improving their organization and efficiency with simple, seamless, and transparent RM solutions. Reach out to us with any questions or for a free consultation.