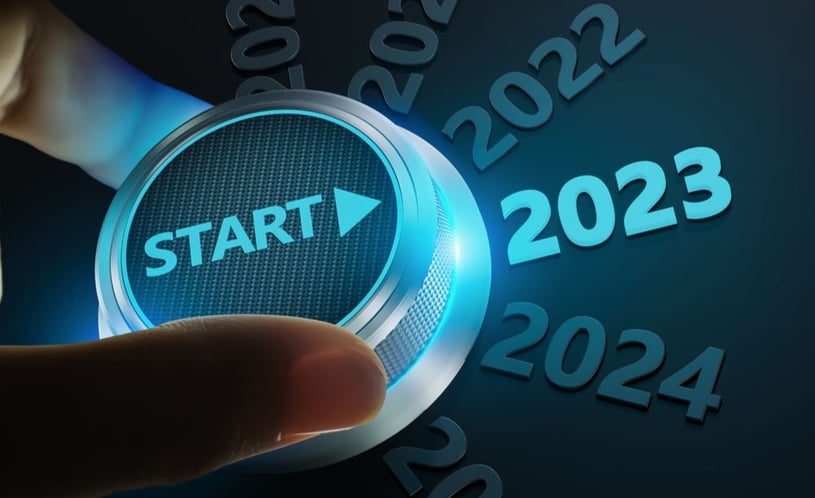 Hand turns start button to 2023. Photo by Yingyaipumi from Adobe Stock Images.
Happy New Year! As we enter 2023, we're sharing our goals for the year ahead.
We did the same in 2021 and 2022, and setting our intentions in the past has allowed us to remain true to our vision, propel innovation and find ways to continually enhance service to our customers.
Here are Collabware's 5 resolutions for 2023:
1. Increased Investment in Development
One of our core values is 'Make It Happen'. We've strived to do this for modernizing information management, access and security throughout the 13 years Collabware has existed. In 2023, we're putting the pedal to the innovation metal.
Our wonderful development team is coming together for regular research days and hackathons, and ensuring they have what they need to put forward their best work. We're also growing our Engineering team at the time of publishing this article. Check out our Careers Page to learn more.
All these measures mean that we've got some exciting additions coming to our Collabspace, Collabware CLM and Collabmail solutions... stay tuned!
2. Improved Customer Support
We've said it before and we'll say it again: our customers' success is our success. 'Passion for Customer Success' is another one of our core values, it's why we do what we do.
Our Customer Success team has evolved and is at the ready to help our customers' teams with their projects, challenges and even be an ear they can rely on. We're excited to help them achieve success and celebrate their victories!
Check out our customer success stories from East London Industrial Development Zone, Haventree Bank, and the Office of Utilities Regulation. We hope to share more success stories in 2023.
3. Supporting RM Buy-In & Organizational Alignment
A common challenge for many organizations is attempting to get different decision makers in the organization to understand each others' needs and motivations.
So, we stuck our neck out to try and bridge the gap by championing departmental alignment in hopes of getting consideration for all parties and illuminating common overarching goals, such as data protection, risk prevention, cost efficiency and profit. This became a big topic for us last year. Our CEO, Graham Sibley, shared a presentation on how records managers can gain stakeholder buy-in and align an organization's goals.
We'd like to continue the conversation this year to help you attain buy-in for your next project. Please reach out to our team as almost nothing surprises them at this point.
4. Emphasize Data Privacy and Security
Data is an organizational necessity. We're here to help you ensure data is your team's strength, not a weakness. We've spoken about the risks of data breach and data loss, and we've shared about how our solutions ensure data security.
In 2023, we'll not only work to ensure our solutions' security remains top notch and zero trust, but also provide education and advice so you remain in-the-know on how to keep your business-critical information safe.
5. Further Our Compliance Certification Objectives
Our solutions are compliant for a long list of certifications to remain industry-standard-ready for your organization. We'll be adding to this list in 2023, with some exciting updates coming very shortly (including our journey to be the only cloud-based records management solution certified with FedRAMP High).
Keep an eye out or ask us if you have questions regarding your company's legislative or organizational requirements.
We're excited about the opportunities and challenges that lie ahead. Collabware is committed to delivering the best solutions and support to our customers, and we look forward to continuing to work with you to achieve your content management goals.
What do you think about our resolutions? Have any additional topics you'd like to see us cover? Let us know in the comments! We wish you a wonderful 2023 and encourage you to reach out if you have any questions.