For Immediate Release: Tuesday October 1st, 2019
Collabware is excited to be included as an organization on the 2019 list of Best Workplaces™ for Millennials.
Collabware received this honour after a thorough and independent analysis conducted by Great Place to Work®.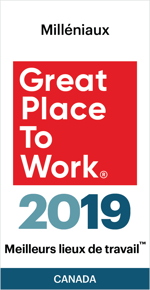 "Age is not a determinant of capability. We are always open and excited about the fresh perspectives and energy that millennials bring to the workplace," says Graham Sibley, CEO of Collabware.
"We encourage autonomy and creativity while offering mentorship and growth opportunities to ensure that all have the tools and support they need," Sibley adds.
This list is based on direct feedback from employees of the hundreds of organizations that were surveyed by Great Place to Work®. The data has a 90% confidence and a plus or minus 5% margin of error.
"Our benefits and perks have evolved to reflect what we've learned to be important to millennials," says Anastasia Hunter, SVP of Operations. "Being innovative and working autonomously is valued at Collabware, so employees have the opportunity to work on their own passion projects during quarterly Innovation Days and can attend conferences and courses to grow their skill set."
"We also understand that life extends beyond the office and encourage work-life balance with social activities, volunteer opportunities, flexible hours, and unlimited vacation days," Hunter adds.
To be eligible for this list, organizations must be Great Place to Work Certified™ in the past year.
30% of their employees must fit the Millennial demographic (born after 1980)
They must have minimum 90% positive response to the statement: "I am treated fairly regardless of my age."
The organization must meet a minimum consistency index among the different age demographics
We ranked the best based on employee responses to our Trust Index survey.
Collabware has also made the 2019 lists for Best Workplace in Technology, and Best Workplace for Mental Wellbeing.
About Collabware
Collabware brings calm to information chaos with intelligent information management and collaboration software designed to make teams more productive, protect high-value information, and help organizations rapidly locate the information they need to make better decisions. With offices in Canada, USA and the UK, our software has been internationally deployed by companies in regulated industries, including: finance & insurance; mining natural resources; government; healthcare; manufacturing, utilities, transportation, entertainment and education.
About Great Place to Work®:
Great Place to Work® is the global authority on high-trust, high-performance workplace cultures. Conducting the world's largest workplace study, surveying over 8,000 organizations representing more than 10 million employees in more than 60 countries, GPTW provides tremendous understanding of effective business cultures and the increasingly complex marketplace. Through proprietary assessment tools and services, GPTW recognizes the world's Best Workplaces™ in a series of national lists including those published by The Globe & Mail (Canada) and Fortune magazine (USA). GPTW provides the benchmarks and expertise needed to create, sustain, and recognize outstanding workplaces, and it supports clients as this accelerating pace of change compels organizations to continuously adapt, innovate and thrive.
Press Contact:
Angela Dion, Collabware
1-855-268-0442
contact@collabware.com