New Collabmail product from Collabware enables simplified filing of email and attachments to SharePoint without the need to leave Outlook.

Vancouver, BC – July 20, 2016 – Collabware today announced the general availability release of Collabmail, its new product focused on integrating Outlook and SharePoint for simplified Enterprise Content Management (ECM). Collabmail provides easy to use drag and drop functionality for filing emails and attachments within SharePoint, and for attaching SharePoint content to outbound emails.
Collabmail
Collabmail is an Outlook add-in that seamlessly integrates SharePoint into the desktop experience by providing users with the ability to navigate SharePoint sites and libraries, without leaving Outlook, in order to retrieve or file new content. When filing new content, Collabmail adheres to Enterprise Content Management (ECM) compliance requirements by prompting users to provide required metadata, which is a feature unavailable in standard Outlook.
"Our goal as an organization is to provide enterprise users with a simplified ECM experience by ensuring that they can easily work with their information without having to constantly switch applications." says Graham Sibley, CEO at Collabware. "At the same time, we need to ensure that enterprise records management compliance is being achieved. Collabmail helps organizations achieve both these outcomes."
Click here for more information on email records management and Collabmail.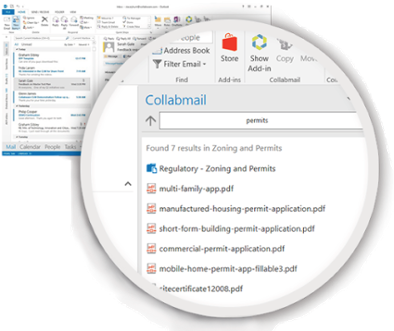 About Collabware
Collabware provides intelligent enterprise content management (ECM) software for SharePoint that improves information and records management, and enhances the way people communicate, collaborate, and consume information. Our software ensures regulatory and legal compliance, increases team productivity, protects sensitive data, and helps organizations quickly locate information needed to make better decisions. Headquartered in Vancouver, Canada with regional offices around the globe, our team supports a wide range of customers including Fortune 1000-regulated enterprises and public-sector organizations.
Press Contact
Angela Dion, Collabware
1-855-268-0442
contact@collabware.com