For Release: Tuesday June 28th, 2022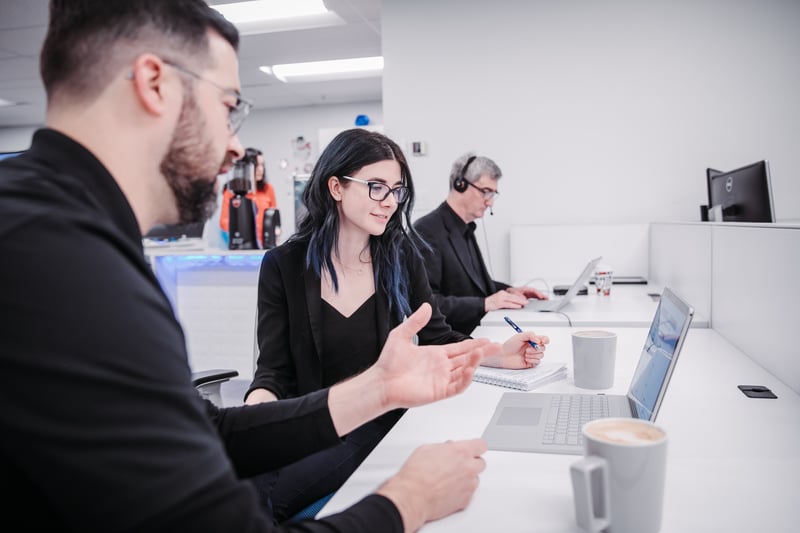 Collabware provides each team member with autonomy, training, and development opportunities.
Collabware is proud to announce that our organization has been named on the 2022 list of Best Workplaces for Professional Development!
We received this honour after a thorough and independent analysis conducted by Great Place to Work®.
It's a priority that each Collabware team member feels equally valued and equipped with the tools they need. That's why every individual is provided with autonomy and accountability for their own projects, and all receive support, training and development opportunities to overcome any challenges. Open communication and transparency is encouraged with company-wide weekly meetings and monthly town halls so everyone feels heard and has a chance to learn how they make an impact!
"At Collabware, we encourage and welcome [our team members'] forward thinking and innovative perspectives," says People and Culture Manager, Patricia Lizama.
Want to join this awesome team? Check out our latest career opportunities!
The list is based on direct feedback from employees of the hundreds of organizations that were surveyed by Great Place to Work®. The data has a 90% confidence and a plus or minus 5% margin of error.
To be eligible for this list, organizations must be Great Place to Work- Certified™ in the past year, with a minimum score of 80% on the Professional Development Index, and a relative level of complexity based on the number of employees. Professional must also be demonstrated in the data as being a priority for their organization. We determined the BEST based on employee responses to our Trust Index Survey.
About Collabware:
Collabware helps enterprises and governments achieve legislative and regulatory information management compliance by providing intelligent archiving, discovery, and records management solutions. By automatically protecting critical content and revealing dark data, Collabware solutions increase organizational transparency so information can be properly retained, managed, and harnessed for business transformation. With offices in Canada, the USA and UK, our software has been internationally deployed by large enterprises and highly regulated industries. For more information, visit www.collabware.com.
About Great Place to Work®:
Great Place to Work is the global authority on high-trust, high-performance workplace cultures. Through proprietary assessment tools, advisory services, and certification programs, GPTW recognizes the world's Best Workplaces in a series of national lists including those published by The Globe & Mail (Canada) and Fortune magazine (USA). Great Place to Work provides the benchmarks, framework, and expertise needed to create, sustain, and recognize outstanding workplace cultures. Visit us at www.greatplacetowork.ca or find us on Twitter at @GPTW_Canada.
Press Contact:
Angela Dion, Collabware
1-855-268-0442
contact@collabware.com