Our Outlook-integrated solution Collabmail has empowered teams to become more efficient by enabling simple retrieval and filing of SharePoint content without ever leaving Microsoft Outlook. Through Collabmail, users can navigate SharePoint, drag-and-drop SharePoint content as embedded links within an email, and quickly file one or more emails and/or emailed attachments straight into SharePoint.
However, at Collabware we are always working to improve the functionalities of our products so we are excited to announce the upcoming release of Collabmail version 1.6.1! This product upgrade will include the following new features and updates:
Language Support
Parles français? French will now be supported in Collabmail, based on user language settings and Windows.
Data & Thread Properties
On top of French language support, more email metadata will be captured when uploading emails via Collabmail. These properties include email threads, IDs, attachments, and both 'received' and 'sent dates'. The email thread property specifically contains the email subject with RE: and FW: strings stripped out. This will allow users to group, sort, and/or filter emails by the email thread value.
Streamlined Uploads
Several other new additions will result in a more streamlined user experience. One is the ability of users to make multiple uploads without input. Unless necessary, users will not have to interact with Collabmail after they begin a content upload.
Automatic Check-in
Collabmail will now also automatically check-in documents upon closing of the metadata form window for SharePoint libraries which have minor versioning enabled.
These improvements provide end users with more options and allow for a more efficient, simpler user experience which cuts search time and increases productivity. So Collabmail users, look out for our version 1.6.1 release!
Review the full Release Notes & Download** Collabmail v1.6.1
Want to learn more about Collabmail? Contact us with your questions, or request a free trial! You can also download a free Collabmail brochure here: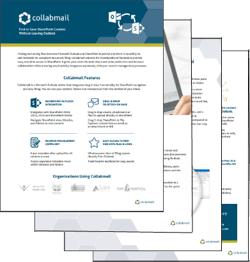 ** You will require a Collabware Help Center account to view the full release notes. If you need assistance or to create an account, please contact support@collabware.com