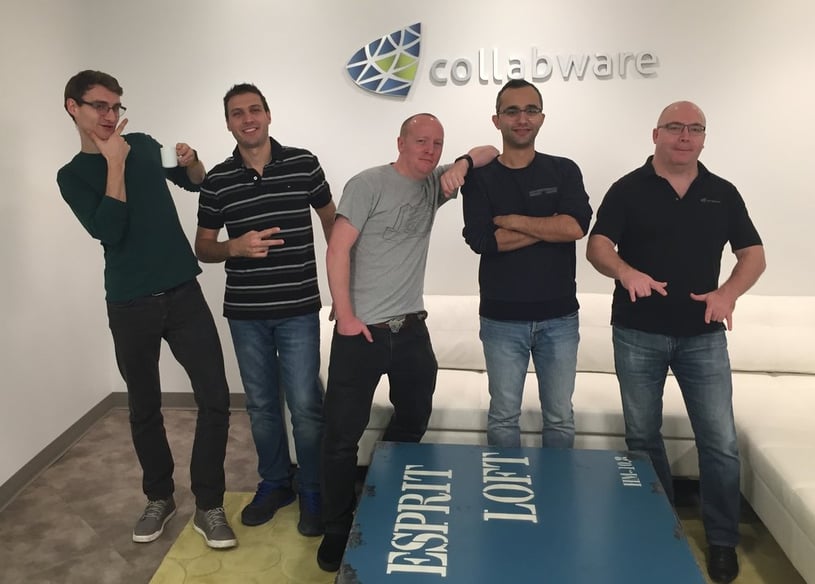 Meanwhile.. these five CollaBros are getting pumped up for Movember by practicing their dance moves.
Movember is here, and men everywhere are growing their mustaches for 30 days. But you don't have to have a mustache to care about men's health! Collabware's CollaBros joined in to raise funds for Movember, and we need your support.
Movember matters because around the world, 510,000 men die from suicide each year. That's one every minute. Another scary fact? Prostate cancer is the second most common cancer in men worldwide. The Movember Foundation is funding research and services to help men and boys stay mentally (and physically) healthy.
There are several different ways you can help – grow a mustache, donate to a team (hint, hint) or host a fundraising event. We can't leave a bro behind!
We're supporting the Movember Foundation because they're tackling some of the most significant health issues faced by men. With your support, we can make a difference for men's health.
Donate online to the CollaBros and help save a bro!
Learn more about Movember.
This was a Collabware culture post. To learn about Collabware, our organizational values and latest job posts, you can check out our Careers Page. To stay posted on the latest and greatest that our team members are up to, be sure to follow us on our socials, such as our Twitter and Instagram!
About Collabware
Collabware helps organizations achieve legislative and regulatory information management compliance by providing intelligent archiving, discovery, and records management solutions. By automatically protecting sensitive critical content and revealing dark data, Collabware solutions increase organizational transparency so information can be properly retained, managed, and quickly located to make better business decisions.
Got questions about Collabware? Contact us!