Vancouver, BC, CA — January 14, 2014 — SharePoint expert and author Steve Goodyear has included Collabware in his newly published book, Practical SharePoint 2013 Enterprise Content Management.
Collabware CLM is included in the "Extending SharePoint 2013 Records Management" section, and is the only third-party vendor to be identified. The section details some of the records management gaps that Collabware CLM fills.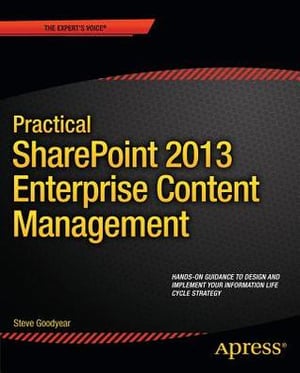 Goodyear states, "I am very impressed with many of the features of Collabware CLM including automatic record declaration, centralized compliance policy management and contextual content surfacing." He adds, "My clients frequently ask how they can automate the classification of content, and it just so happens that the rules-based auto-categorization is my favourite feature of Collabware CLM."
Practical SharePoint 2013 Enterprise Content Management is the first book to guide you through planning and designing each phase of your information lifecycle with SharePoint 2013. Goodyear walks you through how to analyze and plan enterprise content management (ECM) solutions for an effective and end-to-end information design based on your organization's needs and business requirements.
Practical SharePoint 2013 Enterprise Content Management is available through Amazon.com.
About Collabware
With offices in Vancouver, BC and Boston, MA, Collabware is proud to be the only vendor to offer records managers a comprehensive content lifecycle management product for Microsoft SharePoint. From content creation to record destruction, our end-to-end solution offers a superior user experience, advanced physical and electronic records management features, and complete compliance control. Records manager controlled, yet end-user transparent, Collabware CLM helps organizations reduce costs and ensure compliance.
More Information
Press Contact:
Angela Dion, Collabware
1-855-268-0442
contact@collabware.com