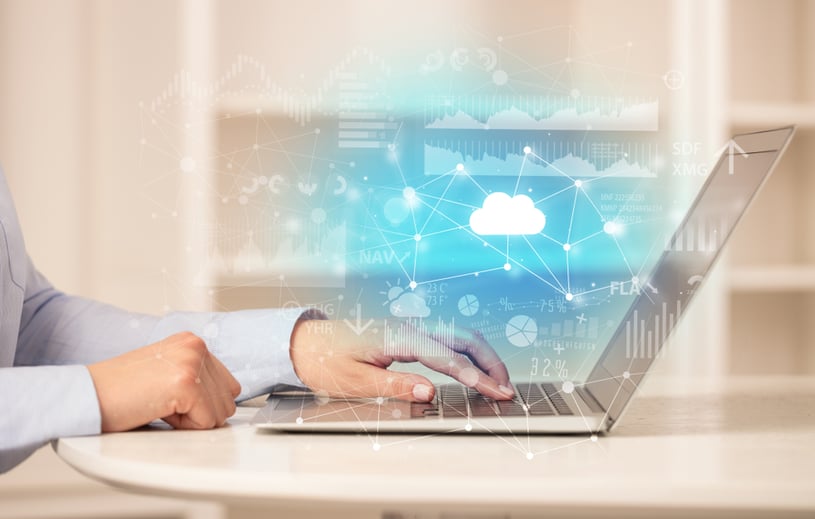 Woman on laptop using Cloud technology. Image courtesy of Shutterstock.
So you've made the decision to migrate to the Cloud. Great! Managing records and information this way, known as cloud-based RM, will result in more efficient processes to save your organization time and dollars that would have been required using any technology infrastructure.
We've thought of and outlined what you should deliberate to be successful when taking on this effort, including:
Read on to learn more!
Four Factors to Consider in Preparation
1. Understanding the Process
To successfully progress, it is key to understand what this process will look like, require, and entail in relation to your organization's current content and RM program.
Evaluate and answer the following:
What is my organization's current content? Is it well classified against a file plan or taxonomy?

What content will migrate to the Cloud, and what needs to remain on-premise?
Will content cleanup be performed before or after the migration, if at all?
What tools or methods will be used to execute the migration, and will it be verified and confirmed that the migration is complete?"
If you do need additional knowledge and technical experts to help answer these questions, you should know where to access resources for support.
2. Goals and Timelines
What are your short and long term goals? What is your timeline for this migration? Knowing this is essential as you progress so you can stay on track with scheduling and achieve the benefits.
3. Gathering Teams
Making sure that all appropriate teams understand this upcoming change and are clear on their roles is important so the migration is successful and processes are streamlined.
Are you prepared in terms of internal content ownership, who will be deciding what goes up and what stays back? Have all business, technical and stakeholder roles been identified? Have tasks been properly allocated for the migration itself, and following that, are personnel well informed and equipped for the changes this will bring their day-to-day tasks?
4. Cloud Content Migration Process: Waves or Phases?
Knowing what is best for the content migration of your organization is necessary to select the stages for this process. Will you roll out migration in a large wave, or break it down into smaller, more manageable phases throughout the organization?
If you will implement migration in phases rather than across all departments, who will your pilot group be? These items are all necessary to plan out so there is complete clarity about how this will work moving forward.
2 Approaches for Cloud Migration
Along with considering the four factors, it is useful to know possible approaches. There are two main methods that can be taken on:
1. 'Lift and Shift'
This approach calls it like it is: content is selected and shifted right into the Cloud. While this method is certainly simpler and faster, something to consider is that it does not improve your records management and content organization in the long run. If you have a mess on-premise, you will have a mess in the Cloud.
Is this the right approach for your organization? The volume of content involved will often dictate what can be done here from a practical perspective. Less content can be more manageable to re-architect or clean up. Meanwhile, larger volumes of older content that you can't get rid of but need to get to the Cloud may warrant the lift and shift approach, and you will at least have the benefits of the Cloud for search, retrieval and accessibility for that content.
On the other hand, if you have a good information architecture already in place on-premise, why re-create the wheel? Lift and shift the good stuff.
2. Putting in Proper Information Architecture
Unlike the simple 'lift and shift,' putting proper information architecture into place would be an initial investment of time and resources. However, this approach ultimately serves to enhance and improve user experience while ensuring that any changes remain compliant to your organization's RM goals. You will have the power to address questions like: "How do we want our users to work with the Cloud content? What sites, libraries, content types and metadata do we want in order to release the real power of an ECM for the end users?"
By having the aid of solutions experts for this process and using a product like Collabspace, organizations will remain compliant and have easy migration and content searchability.
3 Supported Steps to Cloud Migration
You've read the factors, you know the available approaches when migrating from an on-premise platform like SharePoint. Feeling ready to get started?
1. Planning
Do what this blog has outlined: ensure the four factors are covered and walk through the approaches to select what will be the best fit for your organization. This will allow you to map out and be fully prepared with your next steps.
2. Solution Design
Design all aspects of your migration including information architecture, content mapping and migration audit processes. Validate the design decisions with key stakeholder groups.
3. Execution of the Plan
With these factors, objectives, and approaches outlined and selected, it's time to put the planning into motion. Your team can now move forward with migration to the Cloud!
If your organization is moving to the Cloud and you have questions or need services help, Collabware's SharePoint and Records Management experts can support you during each step of the process to ensure your migration is successful. Contact us or see our Services page for more information.
See just how valuable migrating to the Cloud can be with unstructured data intelligence. Curious? We've provided a free, full length whitepaper on the topic for download: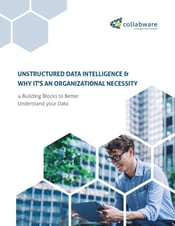 To learn more about our cloud platform, Collabspace, you can download our free brochure here: