All 170+ certification requirements met for strict Application Design Criteria Standard with Collabware enhancements for Microsoft SharePoint.
FOR IMMEDIATE RELEASE - Monday, Apr. 2, 2018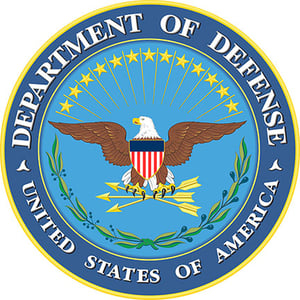 Vancouver, B.C. – Collabware, a leading provider of records management software, today announced the achievement of Department of Defense level certification after passing stringent testing by The Joint Interoperability Test Command (JITC).
Department of Defense (DoD) Directive 5015.2 sets requirements for mandatory baseline functionality of Records Management Application (RMA) software. It defines required system interfaces and search criteria; and outlines the minimum records management conditions that must be met based on current National Archives and Records Administration (NARA) regulations.
Aligning with Presidential Mandate M-19-21 for federal government bodies to go paperless and enlist proper electronic record keeping systems, Collabware provides assurance to records managers that legal and regulatory compliance guidelines are being met.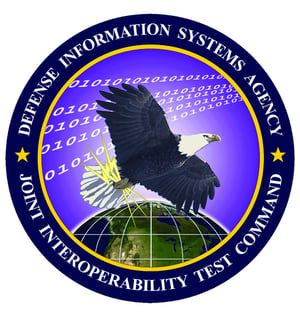 "It was a critical part of our process to ensure the quality level of our solutions were not sacrificed and that the user experience our customers have come to expect remained intact," says Graham Sibley, CEO of Collabware. "Applying creativity and acknowledging the realities of the modern information workplace has led to a compliant, yet fully usable software offering that will increase efficiency and productivity."
Collabware CLM enhances Microsoft SharePoint with functionality to ensure complete and compliant records management along with fully automated workflows for content lifecycle management.
"We're pleased to see Collabware recognized by the U.S. Department of Defense for its expertise in records management," said Gerald Robinson, General Manager of Microsoft's Department of Defense Enterprise Services organization. "We look forward to continuing our work with Collabware to showcase a best-in-class approach to records management."
###
Download our free Collabware CLM brochure: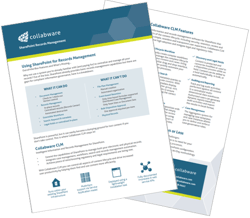 About Collabware
Collabware provides intelligent enterprise content management (ECM) software for SharePoint that improves information and records management, and enhances the way people communicate, collaborate, and consume information. Our software ensures regulatory and legal compliance, increases team productivity, protects sensitive data, and helps organizations quickly locate information needed to make better decisions. Headquartered in Vancouver, Canada with regional offices around the globe, our team supports a wide range of customers including Fortune 1000-regulated enterprises and public-sector organizations.
Press Contact
Angela Dion, Collabware
1-855-268-0442
contact@collabware.com