Are you about to embark on a Records Information Management (RIM) project? Identifying needs and requirements? Selecting technology and vendors? Rolling out a new system? If you do not have executive sponsorship — STOP. According to research by Project Management Institute (PMI), having an actively engaged executive sponsor is the top driver of project success. This seems like a no-brainer, yet less than two-thirds of line-of-business projects and programs have assigned executive sponsors.
The engagement of an executive sponsor for your RIM project is just the first of several business change-management considerations you need to think about in order to increase your likelihood of success. However, in this post I will focus on executive sponsorship.
The Importance of a Project Champion
Why is executive sponsorship so important? A RIM initiative will typically impact most areas of an organization. Staff and line managers look to their superiors in the organization to understand priorities and important corporate initiatives. The Compliance or IT Team project manager may not be able to compel engineering to adopt the changes, but a good business change management plan and a nudge from a 'C-Level' executive sponsor may motivate the organization to support your efforts.
According to this PMI report, an executive sponsor can most help your project or program in these areas:
Rally support of senior management
Manage stakeholders
Intervene on escalated issues
Remove roadblocks
Champion the project
You might be thinking: Great, that is exactly what I need. But how do I get one?
Finding and Engaging the Right Sponsor
If your organization does not already have a culture of executive sponsorship, you will need to do some legwork. It can be hard to identify an effective sponsor; you may even have to teach your sponsor how to be effective.
Look to key stakeholder groups and identify one or two key candidates who support your project. The key skills to look for include:
Ability to influence stakeholders
Leadership
Decision making
Effective communications
Meet with your prospective executive sponsor, discuss the sponsor role and commitments, and then ask him or her to be your executive sponsor.
An executive sponsor is busy. A good executive sponsor is recognized in the organization and often sponsors a number of programs, over and above their day-to-day responsibilities. However, this can lead to overextension. The key is to know how to get the best from your sponsor and to enable their active engagement. Engagement is key.
An effective executive sponsor needs regular feedback and progress reports aimed at a 'C-Level' audience. A RIM initiative, with such broad impact around the organization, will likely have a steering committee made up of representatives of the key stakeholder groups. Your project manager must work closely with the steering committee and executive sponsor, ensuring that communication occurs at the appropriate level, identifying risks, requesting decisions and ensuring that the executive sponsor is not overburdened.
Do the work upfront to secure executive sponsorship, coach and nurture your sponsor, and put a strong business change-management process in place. Give your RIM project team the best chance at completing a successful project.
Have more questions about how to optimize your RIM projects? Contact us to speak with our RM and SharePoint experts. To evaluate the current state of your RM program, you can also download our free RM Program Health Checklist here: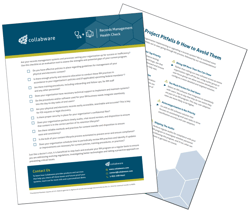 A key reference for this blog post was the Project Management Institute (PMI) report Pulse of the Profession In-Depth Report: Executive Sponsor Engagement - Top Driver of Project and Program Success